Twenty Five
November 15, 2022
In 1997, Joe Hanrahan had just finished directing Dave Wassilak in an Agnes Wilcox'
New Theatre production of PSYCHOPATHIA SEXUALIS. They were having a drink one night and wondering what each was going to do next.
One of them said "Why not start a company and do our own stuff?" A couple of nods later,
and they were on. Midnight seemed like a cool name, and they were set. For their first
show, always a heady move, they decided they would do something they'd had success with before. So Joe would be on stage with a one-man Bogosian script, with Dave directing.
They presented it at the old Contemporary Art Museum, and the Company was born.
Remembering that moment having a drink - and then that first production - it's easy to say
how fast those years have went. Reminds me of an interview with Tony Curtis - Tony Curtis in his 70's, now more a painter than an actor - I came across.
It was a breakfast interview, and Curtis was asked if he remembered his early days in Hollywood. He reminisced that he arrived there on a bus, knowing no one, found a small apartment and slept on the floor. The next morning he walked down the street to meet this interviewer for a breakfast. "That's how fast it went," he said.
There's been a lot of memories, a handful of tough times and productions; an array of good and talented collaborators; an on-going war with the so-called St. Louis theatre community and what there is of a St. Louis theatre press; lately what seems like weekly dustups on Facebook about things I post (our divisive political brains may be fueling some of that); and some good, good plays.
As this 25th anniversary has come up in conversation, someone asked me what were my
5 favorite Midnight shows. There's been a lot of favorites, but if I had to pick 5, here they are. More details, more photos, reviews and scripts for original productions are available on PAST PRODUCTION page.
1. ST. LOUIS WOMAN / 2022.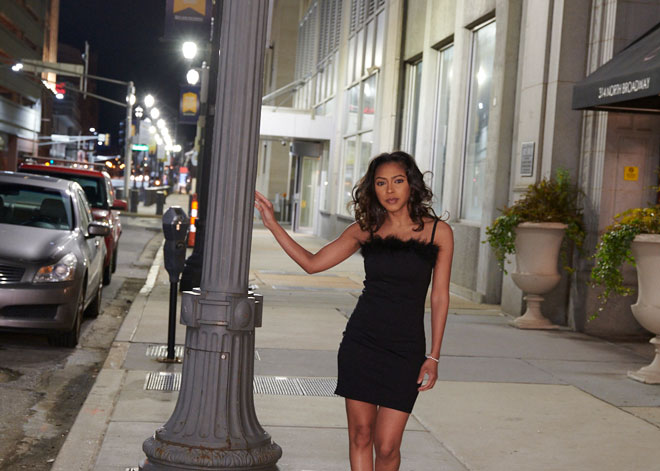 This was the biggest risk Midnight has ever taken. Our first true musical show (after 24 years), way out of my comfort zone, and though a one-person show (which I have some experience with) a true stretch in terms of putting it all together. There's more on this show on the PAST PRODUCTION page, but suffice to say, the individual kudos that friends passed my way, the standing ovations of a roaring crowd, and the savage performance of my collaborator LAKA turned this show into a memory that will continue to resonate.
2. THE BALLAD OF JESSE JAMES / 1998-99 & 2006.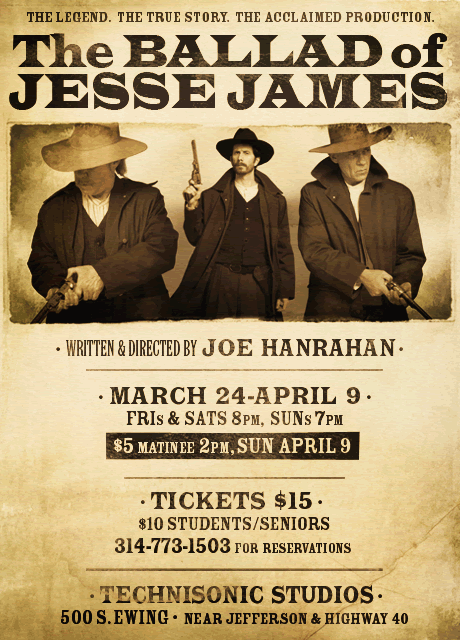 One of our long-running successes. We couldn't have horses or trains onstage, so this was a story-telling play. Larry Dell as Cole Younger and myself as Frank James started the play as aging outlaws relegated to a failing Wild West show. We went into the past, and here came Jesse, portrayed by Dave Wassilak.
We then related the compelling if controversial history, as true as we could make it, of the James/Younger gang. Controversial because they fought on the side of the South, and were slave owners. Those were different times. And 1998 etc were different times as well. We probably couldn't get away with this one today. But it was a thrilling ride. Right from the first rehearsal, when about half the script was done to start staging, our replica Navy Colt guns and holsters had arrived in the mail that day, and I scored a bottle of Rebel Yell whiskey to fuel our work. Opening at the old location of the Contemporary Art Museum (fortuitously with a background exhibit of wall graphics based on 19th century train signage), in that first audience were members of the Jesse James Farm. They'd come down from Kearney, MO to see the show, and promptly invited us up to perform at their annual Jesse James days.
We went to Kearney (and Liberty, site of their first bank robbery) for research, and returned twice to do shows at their festivals. What a trip. Performing before scholars and oldest-living relatives of the boys, we performed right on the porch of the historic James house. Our green room was the kitchen, where the Pinkertons had thrown a bomb that severely injured their mother and killed their little half-brother. My dressing room was Frank's bedroom, where he had died. Redolent of history, the show was a triumph in front of many audiences and on many stages (including a fabulous stint at the Missouri History Museum). Worth a rebel yell or two.
3. IT IS MAGIC / 2021.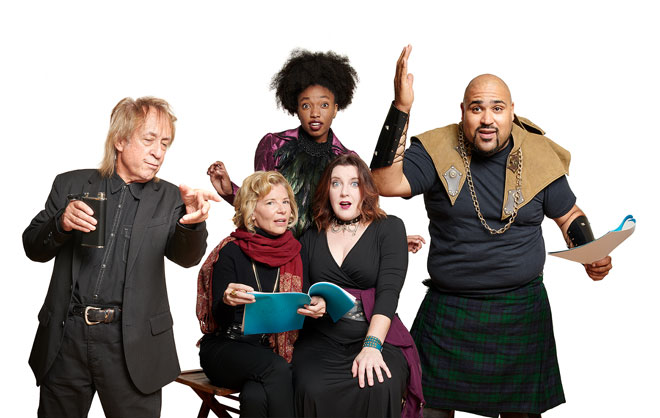 An explosive show. I supplied the ammunition (a new smart, smart script from Mickle Maher) and director Suki Peters was smart enough to understand this script and light the fuse. She assembled a dynamite cast - Carl Overly, Michelle Hand (both in their final non-Equity performances, Chrissie Watkins, Nicole Angeli and myself.
Big, boisterous audiences, but if you want to use the Award meter to grade a show, for the Critics Circle awards - all of us were nominated for acting awards (Nicole won, Carl and I tied/shared), and we all won for best Comedy Ensemble. We were robbed (but nominated) for Best Comedy and Best Director awards. But awards fade when you remember the sheer joy of working with these performers to bring this so cool, so clever script to breathless crowds who were hungry as wolves for something this good, something this well done.
A near perfect show.
4. THE HUNCHBACK VARIATIONS / 2002-2003 & 2018.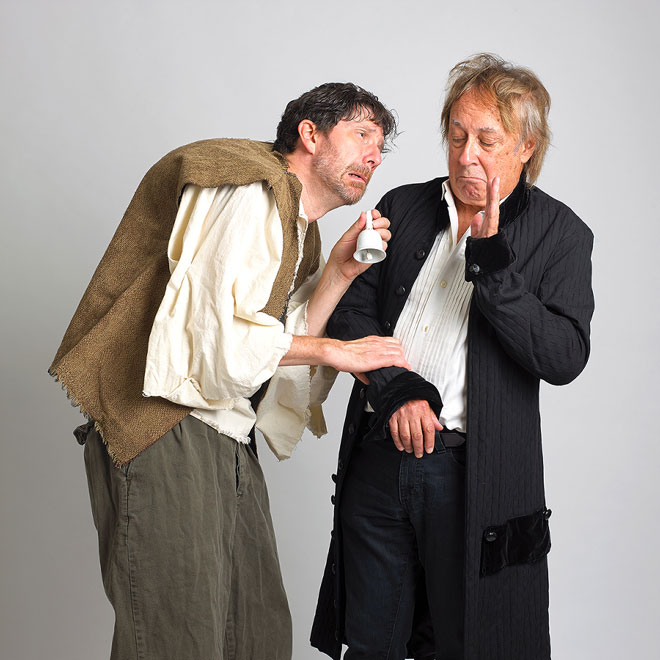 Dave Wassilak and his girlfriend Mary Schnitzler (actress/director/Midnight Company collaborator) had planned a short vacation trip to Chicago, and their departure date fell just a few days after 9/11. They went ahead with it, and saw this show (another brilliant Mickle Maher script for his home Theater Oobleck), fell in love with it immediately, and came back to St. Louis saying "Let's get our hands on this." We did and we kept our hands on it. Our first production of it was a blast. Again at the former home of the Contemporary Art Museum, we filled the evening with some devised theatre nonsense, and were graced by a visit from Maher and a couple Chicago cohorts.
Soon after, we applied and were accepted to perform at The Philadelphia Fringe Festival. That was a great week in Philly, doing our show, in the audience for others, seeing the sites. And then 15 years later, and a revival as part of The Faustival, which featured several local groups doing their version of the Faust story. (We paired HUNCHBACK with Maher's APOLOGY/FAUSTUS show, another of his brilliant takes on a classic. A one-man show, we'd done this before and brought it out to pair with HUNCHBACK.) For you see, HUNCHBACK is a very short show. But it packs an inordinate amount of power and pull. This was the Midnight show that most theatre folks remember. When it comes up, they stop, gaze upwards and smile. They love this show, and so did we. (At this writing, it's enjoying a short revival in Chicago with regular Maher actors. )
5. NOW PLAYING THIRD BASE FOR THE ST. LOUS CARDINALS…BOND, JAMES BOND / 2018 & 2020.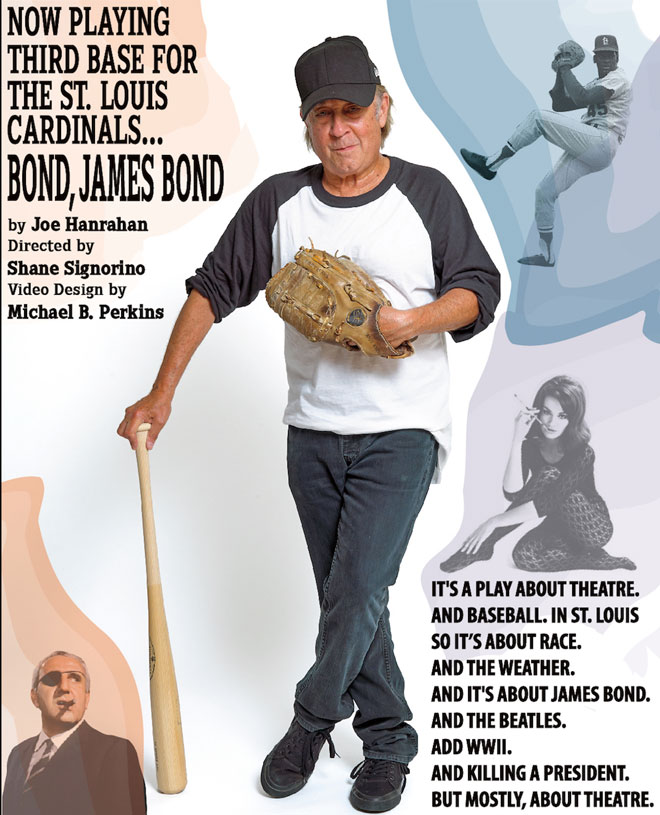 This fifth favorite was a tough one. I felt I had to include a one-man show since I've done so many - 2 Will Enos, 2 Conor McPhersons, 3 Daniel MacIvors, the Harry Truman show - but this is one I wrote myself, about myself and my summer in 1964, when it seemed everything in the world was happening. But (like IT IS MAGIC), its key topic was the theatre.
The show touched on Bond, The Beatles, JFK's assassination, the Cardinals remarkable World Series run and more - but it's true topic was the theatre - my introduction to it, and my justification for one person theatre. Just as HUNCHBACK was the theatre crowd's favorite, this one hit most St. Louis natives hard. Their memories were brought back to life, and I've never experienced such a visceral reaction from patrons in the lobby after the show. Everyone wanted to talk about what they saw and what they remembered. A very personal success.
I suppose if I had to expand this list to 10, in no particular order, I might include TINSEL TOWN, RODNEY'S WIFE, JUDGMENT AT NUREMBERG, THE TWO CHARACTER PLAY and ORPHANS (working with my sons.) I don't think Midnight's offered any real clunkers in its 25 years, so there's many favorites. But the top five - 2 Maher scripts, 3 Hanrahan scripts.
And the next 25? I'm going to need some help to get there, and so I've been listening to some masters, and taking their words to heart. For example, Bono (that U2 Bono) has a new autobiography out, so he's being interviewed a lot. In one, he talked about the band's music, and his realization that U2 is never going to have big, popular hits any more. They've aged past the core audience of pop music, and he says they don't care about hits anymore. They just want to create their best music. If only for themselves, fine. I've taken those words to heart for my theatre work. There's a mass of young theatre folks in St. Louis - full of excitement and hope and theatre and their new companies and a bit of themselves. They're going to ignore my stuff, but that's going to be OK. I'm going to do my best work for myself. (And possibly if I can stay out of the Facebook way of these younger folks, I will survive. They typically don't like some things I say there - they very typically refuse to enter any hard discussions that would help our theatre community survive and maybe flourish. So discretion is the only path to valor here.)
Some of that is reflected in an attitude I'm lifting from Sir Anthony Hopkins. Other sources have said this isn't his original quote, but I'll give him credit: "Let go of people who aren't ready to love you yet! This is the hardest thing you'll have to do in your life, and it will also be the most important thing:
Stop giving your love to those who aren't ready to love you yet.
Stop hard conversations with people who don't want to change.
Stop showing up for people who are indifferent to your presence.
Stop loving people who aren't ready to love you."
Yes sir, Sir Anthony. That's what I'm going to do. I'm selectively applied this to a few individuals. But this will also go out to the theatre community. I have to stop caring about the local theatre community, other than providing it with my best work. Trying to engage it in serious, sometimes controversial discussion, in at attempt to move the collaborative artistic ball forward is a lesson in futility. (This isn't the first thing I've learned from Hopkins. Both he and Alan Rickman were very adamant about their process of reading a script hundreds of times as they prepare a role. Not learning their lines. Knowing their lines. Hard to hit a script hundreds of times. But I believe in that process.)
And echoing back on what I picked up from Bono is something from the late Sir John Gielgud. "You should always go into the artistic arena expecting absolutely nothing and giving absolutely everything you have. It sounds sacrificial--penitential, really--but it's the only way you can be assured of being at your best, and the only way you can be assured that you won't be disappointed." I love that. And I vow to do all I can to follow that path.
I feel if I can follow remnants of this wisdom, I can continue to go boldly beyond. Of course, I'm still going to retain Midnight's mission statement that I cribbed from the recently late Jerry Lee Lewis. In the 60's, after the British Invasion and his personal scandals, his record sales fell, and he basically had to go on the road and play live for the next 40 or so years. But The Killer would always kill them in concert. And as he'd leave the stage, he'd say what I strive to say after every "full of surprises" "where did that come from?" "whoa…just whoa" Midnight show:
"I bet they didn't see that coming!"