We lost our son, Travis to addiction this week. Travis – actor (reviews/photos/video of his Midnight work is on this site), musician, one of my best friends. Below, a stirring tribute to him.

R.I.P. Travis Hanrahan, Pink Sock Vocalist, Punk Rock Wildman, Friend to All
Posted By Daniel Hill
Fri, Feb 24, 2017 at 6:29 AM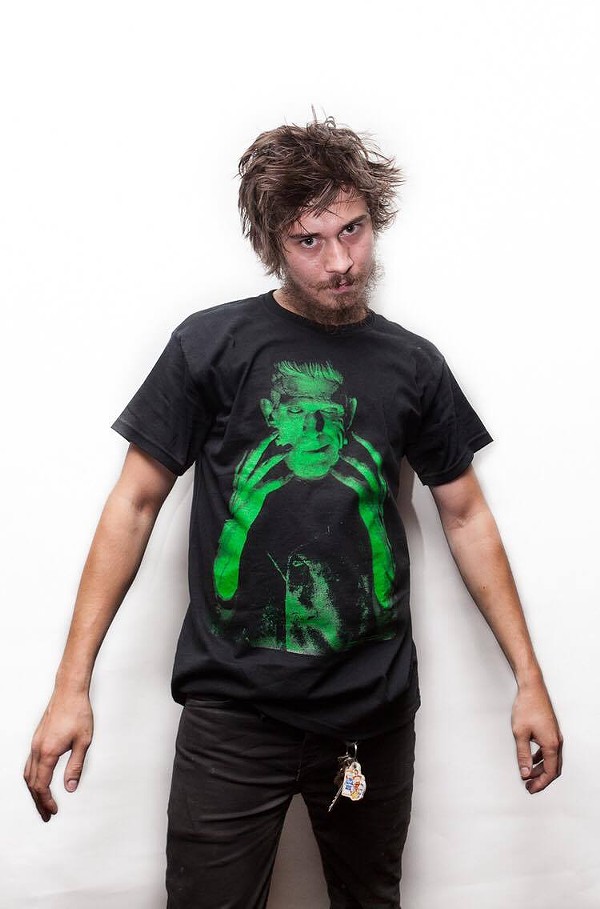 R.I.P.
It was the evening of June 4, 2013, a Tuesday night, that I bore witness to one of the most impressive and hilarious displays of unbridled punk-rock disregard for acceptable social behavior I have ever seen in my many years in and around St. Louis' punk community.
The scene played out in the courtyard behind Atomic Cowboy. It was the 2013 RFT Music Awards ceremony, and musicians of all genres from all over town were in attendance to receive awards and/or clap politely while others did so. It was the first such event in my tenure as music editor for the paper, and I was hoping everything would go smoothly.
It didn't.
Shortly before the winner of the hardcore punk category was announced, I spotted Travis Hanrahan getting a drink at the bar and struck up a conversation. I knew his band, Pink Sock, had been voted the best band in the category. I also knew that it had been a victory with an extremely close margin — Shaved Women, another local favorite, had received exactly one less vote. With only a few minutes remaining before this news would be common knowledge, I decided to tell Hanrahan, with whom I had more than a passing familiarity, about the narrow win.
He seemed genuinely surprised. Shocked, even. But within seconds I could see a spark light in his eyes as he realized he'd be called upon to take the stage and accept the award in front of the gathered crowd. I should have been worried at that point, but I foolishly wasn't.
When the time came, Hanrahan climbed onto the stage and promptly pulled down his pants, mooning everyone in the audience. I seem to remember he then smashed the award, but that memory is fuzzy — overshadowed by the events that would follow.
As more categories were announced, Hanrahan became increasingly comfortable with taking that stage — whether he was summoned to do so or not. An apparent plot to urinate off the side onto a drum set was thwarted by one of the drag queens we'd hired to emcee the event, who (literally) kicked him off the stage just as he unzipped. When Hanrahan climbed back up he ran quickly, whipping a piece of food — presumably one of the hot dogs we'd provided for attendees — into the crowd before jumping off again.
The object happened to strike one of rapper Tef Poe's associates — a towering man with the build of a linebacker — who was, understandably, in no mood to be pelted with meat. He made his way to Hanrahan in seconds, raining blows from above and pummeling the much smaller young punk.
Misunderstanding the situation — I'd pegged this large man as a bouncer for the event, based solely on his size — I rushed in and shoved myself in the middle. Hanrahan mostly just curled in a ball and covered his head, rather than make any attempt to fight back. I pleaded with the man to stop, asserting my credentials with the RFT (as if that would help anything). He eventually did, thankfully without first throwing any hands my way.
As Hanrahan was escorted out by actual staff, Chris Ward of KDHX and Acorns to Oaks rushed onto the stage. He'd retrieved the item that had been thrown, and was excited to show it to the crowd.
It was not a hot dog, as assumed. It was a half-eaten strip of steak. Hanrahan brought it in a Ziploc bag in his pocket, and had apparently been gnawing bites off of it, like a caveman, throughout the course of the night. When I later asked him why he did that, he explained that he didn't know there would be food. He wanted to be prepared.
When I asked him if he was OK following the fight, he shrugged dismissively.
"That's not even the first time I got beat up this week."
All told it was, by far, one of the most punk things I've ever seen.
Hanrahan passed away on the night of Sunday, February 19, 2017, at the age of 27. He was found by his roommate in his Fox Park home. His struggles with addiction were well-known to those close to him — the obituary composed by his family this week includes this line: "No one chooses addiction. It takes many prisoners and leaves a wide path of merciless destruction in its wake."
But even more well-known was Hanrahan's warmth and kindness, his willingness to lend an ear to a friend in need, his sharp wit and devilish sense of humor. Beneath that punk wildman exterior was a genuine human being and a true artist. Hanrahan put his all into his performances — even when those performances were less music-based and more founded in flung meat.
News of his passing was met with an outpouring of grief from St. Louis' punk community.
"I'm filled with gratitude today to be able to say I got to know one of the most passionate and jovial persons the world's ever seen. We are all better off having known and been a part of Travis' life and he being part of ours," wrote Jason Mullikin, singer of the now-defunct Totally Gay Cop, which performed with Pink Sock on many occasions. "No matter the time, the place or what may be going on in his own life, I'll never forget his willingness to listen. He gave advice. He laughed and he gave his all. He genuinely loved every person he encountered. It goes without saying but he was a once in lifetime type of dude."
"I never heard Travis complain about anything, not even once," wrote Gabe Karabell of Lumpy & the Dumpers, Fried e/M and about a million others. "No matter what was happening in his life, he always asked how I was doing and went out of his way to make sure his friends were happy."
"He was one of the first people I met upon moving to St. Louis. He welcomed me with open arms like he welcomed anyone," wrote Reuben Hemmer, best-known as Black Panties' human mic stand. "He was as true as it gets. His personality was incredible, and he was so quick and brilliant, one of the funniest people I have ever met. It's pointless to even attempt to explain how exciting and fun his performances with Pink Sock or any other punk/hardcore project he had, but what I keep thinking about the most was camping with him and the songs we would sing that he wrote for just himself. They were beautiful. He was such a talented, intelligent and wonderful individual that had such an impact on St. Louis and the people surrounding him."
In addition to his musical work, Hanrahan had some acting chops as well. The son of veteran St. Louis playwright Joe Hanrahan, he worked with his father on multiple productions, including 2007's "Soldier Boy," which in 2013 was debuted in New York. (In the St. Louis production, Travis played the title role.) Travis did some film work too, and even has an entry on IMDb for his co-starring role in 2012's One Dakota. Recently, he had begun work on his own first screenplay.
"Fiercely independent, intensely loyal, and blazingly righteous in matters he considered just, he brightened the lives of everyone he touched with his unique spirit, energy, creativity, and amiability," reads his obituary. "He also loved his family very much and was loved very much in return."
Friends and family will gather at the Kutis Affton Chapel at 10151 Gravois Road this Saturday, February 25, from noon to 3 p.m. It will be an informal affair, "to honor Trav's singular, iconoclastic style."
Wherever Travis may be today, here's hoping they are at least serving hot dogs. But even if not, I know he'll be prepared.
Rest in peace.
http://www.riverfronttimes.com/musicblog/2017/02/24/rip-travis-hanrahan-pink-sock-vocalist-punk-rock-wildman-friend-to-all