It was many years ago that I first worked with Ron Himes. We acted together in Theatre Project's ALL OVER TOWN, with Ron as the black Louie Lucas, me as the white one in the madcap tale (loosely based on a true story) of a guy who'd impregnated a string of NYC women. I directed him in West End's LOVERS AND OTHER STRANGERS, and then Ron asked me to direct THE BROWNSVILLE RAID for his new group, The St. Louis Black Repertory Company. (The group had staged a musical review or two, and referenced this play as its first full production.)
THE BROWNSVILLE RAID was written by Charles Fuller, of A SOLDIER'S STORY fame, and it was another powerful story of racism within the U.S. military. This play told the true story of the 25th Regiment of the U.S. Army – 167 veterans, many who'd served in the Spanish-American war. They were based at Fort Brown in Brownsville, Texas. At that time, Brownsville thought it might become the future Dallas or Houston of Texas, and were not happy that these soldiers of color were based there. Tensions rose, and one hot August night, shots rang out, a white bartender was killed, and a police officer wounded. And though army commanders confirmed that none of the 25th Regiment was off the base that night, city powers blamed the incident on the black soldiers and used it to rid the town of their presence. The pressured Army looked for a scapegoat, but none of the soldiers would turn against the other. The case went all the way up to President Teddy Roosevelt, who allowed the dishonorable discharge of the entire Regiment – many on the verge of retirement and pensions. The incident caused outrage around the nation, and eventually turned black citizens – formerly pro-Roosevelt – against him, though in those days of primitive communication, it was covered up until after the 1906 Congressional elections.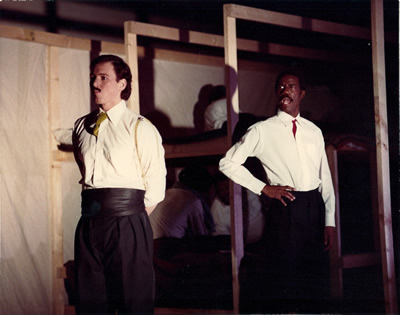 Our production was a good one, with a cast fired up not only due to the social injustices portrayed in the play, but also an inaugural presentation of a fledgling African-American theatre group. While the script depicted some of the surrounding issues of the play (including a spot-on portrayal of Teddy Roosevelt by Peter Schandorff), much of the drama was centered in the barracks of the soldiers, as they battled against the temptation to lie and turn against each other to save themselves.
Ron was in the lead role, as a man of righteous conviction, who helped the soldiers maintain their dignity and solidarity in the face of obvious persecution. We had some significant folks filling out the rest of the cast as well, including Bobby Norfolk, who's gone on the become St. Louis' premiere story-teller, and Zack (Zachary Curry) and Mack (Johnny McHaynes), a legendary comedy team prominent on the St. Louis scene, and mentors in their day to numerous other black comedians. Sadly, Zack and Mack passed away just a few years apart in the late 80's.
Over the years, Ron and I talked occasionally about me getting involved with The Black Rep again, but circumstances prevented it until this season. Ron wanted a company of actors for many of the roles in two productions – Shakespeare's PERICLES and Lynn Nottage's RUINED. About half-dozen of us were in both shows (with Andrea Frye directing PERICLES and playing the lead in RUINED, Ron directing RUINED and originally cast in PERICLES, but he got a last minute opportunity to be part of a U.S. delegation to a major Black arts festival in Africa in December.)
Both shows were challenging, ultimately satisfying, undertakings. No one's seen PERICLES because no one does it. It's a sprawling piece (with probably only about 25% actually written by Shakespeare, not part of his accepted works till the Third Folio), with a huge cast and endless scene shifts. Andrea used it to reflect the African diaspora, shifting classic settings to Africa, and then west to the Caribbean, New Orleans and beyond. Everyone in the cast (except Ka'ramuu Kush as Pericles) played numerous roles (I played six, including an ancient African assassin, a Cuban fisherman, a sea captain, an Irish expatriate in the Gullah Islands, a pirate, and a brothel runner in New Orleans.) The story was told on a massive set, supported by at least 150 costumes, shipwrecks, dancing, twists, turns, and a glorious ending. It was a giant, breathless show, with something for everyone, and a magnificent achievement for the Company.
As we shifted into RUINED, the mood got serious as we confronted the horrors from the recent Congo civil wars we were going to deal with. Documentaries of the situation shared by Ron, and additional research clued us into what was going on, and somewhat like BROWNSVILLE RAID, the entire cast found a sober, underlying motivation to tell this thing right. Ron's "Company" approach was a great asset as well, as the actors, familiar and friendly with each other, were able to quickly shift into the intimacy and tension required to tell the story. Ron said he wanted Mama Nadi's place – the bar/brothel set right in the middle of the violence – to be the "hottest club in the Congo,"
and with our great live band (Dennis Brock on guitar, James Belk percussion), our singing, dancing, beautiful girls (Patrese McClain, Sharisa Whatley, and Evann Jones), and the lusty, war ravaged soldiers and rebels (the real boys over there smoke cocaine with a pinch of gunpowder) and drunken, always open for business, Lebanese diamond merchant Mr. Harari (my character), I think we pulled that goal off.
Everyone involved in the show knew we had something special here, and audiences and critics responded in kind. The word "amazing" was used many times by people who saw it, as they were overwhelmed by the raw and exotic setting on stage, and captivated by the classic story Lynn Nottage wove within the violence, endurance and brilliant life displayed.
As one of this great cast, I'm so sad it's over, but so happy I was able to be part of it.
The cliché always thrown around about the Black Rep is "a lot of talent there." That's true, but while it's been used dismissively to connote raw but undisciplined work, the Black Rep features a thoroughly professional approach, imaginative designers, and driven, fiercely hard-working, and, yes, talented, performers. And even though I have my own Midnight Company, the Black Rep aspires to be my favorite theatre company. There's no other group in town who, after a long rehearsal, can get 25 people to a downtown vodka bar at 10:30 pm on an icy Tuesday night in January, to celebrate a cast member's birthday. Now that's what I call theatre.
(Visit the NEWS section on this site for links to The Black Rep and more info on RUINED.)
PS The work on RUINED prompted me to get back in touch with my old Texas grad school roommate Mark Boulware. Despite the wild times the two of us undertook in the Lone Star state, Mexico, New Orleans, and various European capitals (or maybe because of them), Mark wound up in our State Department. He's been posted to various spots in South America and Southeast Asia. But, as he professed to me many years ago,
the continent he discovered that he truly, deeply loved was Africa. He's enjoyed postings in many countries there (including Cameroon, Botswana, Mali, Gambia and Burkina Faso) and, as of November, 2010, is our country's Ambassador to Chad.
(And I'm also so happy someone like him's representing us.)