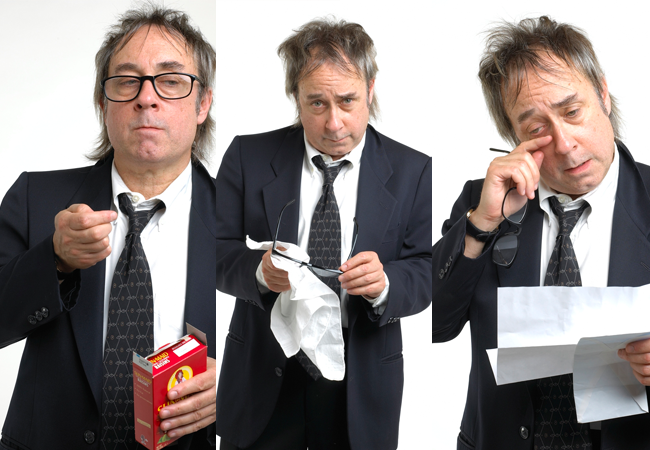 It's been a time of revivals for The Midnight Company (Bogosian's SEX, DRUGS, the Conor McPherson one-acts), most, like this one, revived not only for their brilliant scripts and continued relevance, but also because Midnight has not been able to secure rights for Will Eno's latest one man show, TITLE AND DEED, and the Company wanted to take advantage of available performance space at Herbie's.
But THOMPAIN (based on nothing) was a more than worthy substitute. Midnight produced it ten years ago, shortly after it debuted to extraordinary acclaim Off-Broadway.
The show is still extraordinary. A sensational, fractured structure; crystalline, transcendent language; laughs, heartbreaks and an actor's assaults for the audience. Response, both in terms of audience size and reaction, was as enthusiastic as the show deserved.
Larry Dell, a regular Midnight contributor, who directed the first iteration of the show, was back on board to helm the show, while Joe Hanrahan repeated the role.
And it was the last show Midnight will do at the Central West End location of Herbie's. ST. NICHOLAS, then THOMPAIN, two runs of SEX, DRUG, ROCK & ROLL, a mini-repertory run of ST. NICHOLAS and THE GOOD THIEF, with THOMPAIN rounding things out. Herbie's will be moving in the Fall.
But the memories of the iconic spot will linger. Once the celebrity dining room of choice for visiting celebrities (Mick Jagger, Paul Newman, the Dalai Lama, more), once the best weekend party spot in town (a place where you could borrow a one-hitter from the bartender, where the waitresses would end the night dancing on the bar), and simply one of the most unique restaurant/bars in the world – a beautiful, chic café, an elegant dining room, and in between, a fairly sleazy bar.
It was also the after rehearsal watering hole for Midnight, and it will be missed.
Thom Paine (based on nothing)
Ann Lemons Pollack
St. Louis Eats and Drinks

As I sat watching Joe Hanrahan in the one-man show Thom Pain (based on nothing) in the basement of Herbie's Vintage 72, I thought how much it felt like the early days of Gaslight Square. One performer, no set to speak of, a small audience, the background noise of eaters and drinkers drifting in, and a strange, sometimes mesmerizing piece of work before us. It could have been the Crystal Palace without the crazy décor.
The Will Eno play was a finalist for the Pulitzer Prize in Drama, losing to Doubt, in 2005. The following year, Hanrahan brought it to St. Louis in this very spot. It hasn't aged. The goofy bouncing-off-the-brain script is far from usual. It's like seeing Picasso if someone knew no visual art after, oh, 1900. Yes, it's disjointed, although there is, sort of, a story line. But the nameless narrator veers off in strange, irrational directions, creating almost a word salad that leaves some people chuckling and others scratching their heads. It is not quite absurdist, but it clearly is reminiscent of Samuel Beckett.
Hanrahan relates a tale that begins with a small boy and goes on to talk about a difficult, unsatisfying existence. The audience is never sure what will happen, or be said, next. Hanrahan is relaxed, comfortable in the world of the narrator, oddball as it is, pacing and gesturing and occasionally talking to specific members of the audience. He makes it look easy, creating an experience as much as he's creating theatre.
I'm not sure if Thom Paine could actually be considered performance art, which can sometimes feel deeply self-indulgent. On examination, this is anything but that, its strangeness is carefully thought out and delivered. It runs about 75 minutes, leaving plenty of time for a drink upstairs and a long discussion about the play.
---