---
Snoop's Theatre Thoughts

By Michelle Kenyon
July, 2022
The Midnight Company's latest production is a complex character study that features intricate plotting and an excellent showcase for six talented local performers. Rodney's Wife is an intriguing period piece that explores family and marital relationships, while also presenting a vivid setting and backdrop for the action. It's a more elaborate production for this theatre company, and it's thoroughly intriguing.
If you don't know much about the story going in, that's probably a good thing for this show, since the characters and situations are not what they may first appear to be in some ways, while in others ways they are exactly what you might expect. The set-up features Kelly Howe introducing the story as an unnamed character talking about her mother, Fay, and an important time in Fay's life focused on a period spent in an Italian villa in 1962. Then, Howe takes her glasses off and becomes Fay, and the main story begins, as Fay is staying with her husband Rodney (John Wolbers) in Italy while Rodney, an actor, is filming a western film with an Italian director. The action begins on an evening in which Rodney's daughter from his first marriage, Lee (Summer Baer), and her new fiance, Ted (Oliver Bacus), have recently announced their engagement–to everyone except Fay, it seems. Also present is Rodney's recently widowed sister Eva (Rachel Tibbets), who seems a little too involved in her brother's life, to Fay's increasingly obvious irritation. There's also Henry, Rodney's manager, who has a new script for Rodney to read with a great role for Rodney, but it's filming in Los Angeles, and the various characters react to this possibility in starkly contrasting ways. There are many suggestions and hints about what's really going on, as subtle and not so subtle reactions lead to further revelations later in the play. At the center of all this drama is Fay, who is hiding secrets of her own, and is upset about both Lee's seemingly sudden engagement and the prospect of going back to Hollywood. I won't add much more because the real drama here comes from the gradually unfolding plot, as well as the characters' relationships with one another and with the secrets they keep and reveal.
This is a drama of relationships, and there are elements of comedy along with the drama. In fact, the first act leans more toward the comic, as a portrait of "jet-setting" Hollywood people in Italy with sometimes hilariously caustic interactions between characters. Still, there's an undercurrent of something else going on, which is revealed in the second act as the tensions explode, and all the actors play this exceptionally well. As the central character, Howe portrays the character's complexities with credible emotional reactions, as Fay's world is often defined by the decisions of those around her, especially the excellent Wolbers as the outwardly amiable but inwardly needy Rodney, and the superb Tibbets as the clingy, controlling Eva. Baer, as the somewhat mysterious Lee, is also strong, as is Bacus as her affable but somewhat clueless fiance, Ted. Ritchie also lends strong support as the somewhat anxious Henry. Everyone works well together, with some especially memorable moments between Howe and Wolbers, Howe and Baer, and Wolbers and Tibbetts as the story plays out, relationships are shown for what they are, and hidden secrets are revealed.
The action is well-paced by director Hanrahan, and the set by Bess Moynihan is nothing short of remarkable. With meticulous detail, the fully realized Italian villa has been brought into the relatively small space at the Chapel. It's easily the most elaborate set I've seen in this venue, and it serves as an ideal backdrop for the action, setting the mood, tone, and period style of the show. And speaking of "period style", Liz Henning's costumes are impressively accurate, colorful, and oh-so-early 60s chic. Along with Moynihan's evocative lighting and some well-chosen music of the era, the mood is ideally set, adding much ambiance to the proceedings as the story plays out.
Rodney's Wife is a show that features a lot of mature situations, and some strong language and sexual situations, so it's for mature audiences. The drama can get intense, as well, especially in the second act, as the show explores the world of characters who aren't always who they seem. It's an exploration of truth, lies, artifice, and the sometimes stifling efforts to define oneself by others' expectations. It's a fascinating play, performed with compelling skill by the impressive cast and crew at The Midnight Company.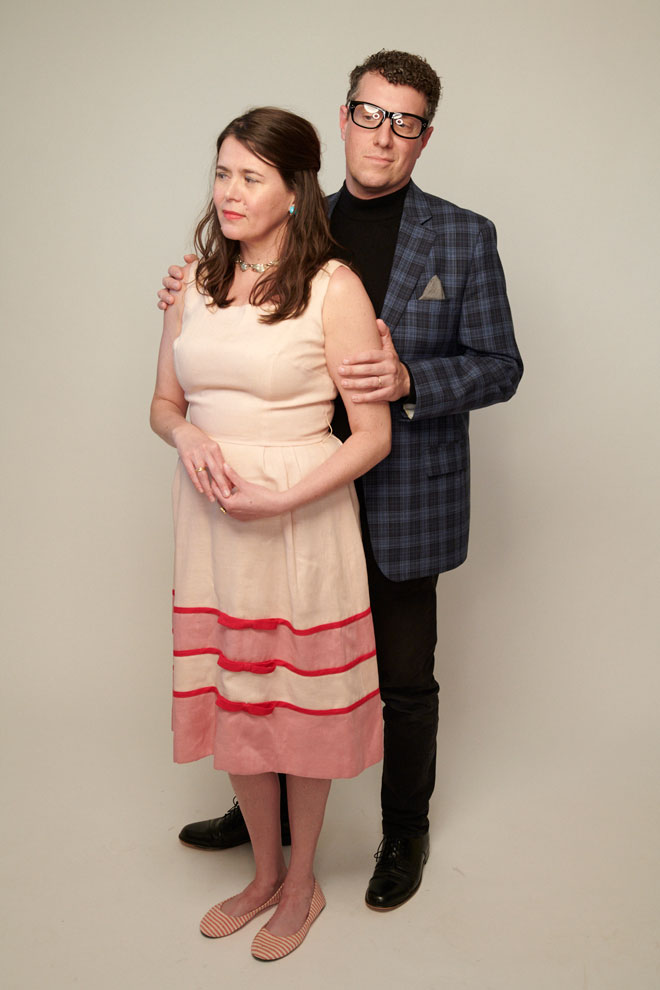 ---
Two on the Aisle

by Bob Wilcox
July, 2022
Richard Nelson may be the most produced American playwright you know little about. He has won a couple of Tonys, a couple of Obies, several awards in the British theatre, where he is frequently produced. He's seen more often off-Broadway and at specialty theatres such as the Williamstown Theatre Festival and the Manhattan Theatre Club than on Broadway, with characters who are the kind of people who frequent such theatres. And his plays almost always earn critical praise, with frequent comparisons to Chekhov and sometimes to Edward Albee.
You can see why in his play currently being performed at The Chapel by The Midnight Company, Rodney's Wife. The play thrums with the barely-spoken family tensions found in Chekhov.
Rodney is a middle-aged American movie actor making in 1962 an early spaghetti western in Rome. The play takes place during a long evening and the next morning in a rented villa on the outskirts of Rome where Rodney and his extended family have set up camp. With him are his second wife, Fay, a former actress now trying to write; Lee, Rodney's twenty-five-year-old daughter by his first wife; his recently widowed sister Eva, whose late husband was Rodney's agent; Rodney's current agent Henry; and Ted, a young American, also a writer, whose engagement to Lee is being celebrated with a family dinner this evening.
John Wollbers' Rodney expects to be larger than life and tries to be, occupying the family spotlight and any other spotlight that will hire him – he's due back to LA the next day for a shoot on another film. Kelly Howe treads gingerly as Fay, readily yielding the party's leads to her husband and his sister Eva, and she is less than effusive in her celebration of her stepdaughter's engagement. Nor is Summer Baer's Lee bubbling over with joy, almost as likely to produce tears as laughter. One does not usually think of Rachel Tibbetts as an irritating person, but good actor that she is, she certainly makes sister Eva screamingly irritating. As Rodney's agent Henry, Ben Ritchie is doubly hassled, trying to get his client Rodney to his Hollywood shoot on time and trying to reach his pregnant wife who may be having car trouble on the Hudson Parkway in New York, before cell phones. And Oliver Bacus admirably fills the thankless place of the young man newly engaged to Lee.
Joe Hanrahan directed these tense performances. One does not undertake the work of a successful admirer of Chekhov unless one has the talent to pull it off, and this production does.
Bess Moyniham has created what I think is the largest and most detailed set I have seen in The Chapel, complete with beamed ceiling and plants on the patio out the side door. And she has lighted it well. If you remember the early '60s, as I do, you will admire the costumes Liz Henning has provided for each of the characters. Miriam Whatley handles the props, and Kristen Strom is the Stage Manager.
Rodney's Wife is a finely tuned piece of work by The Midnight Company.
---
STL Theatre
Inside the intimate space known as The Chapel (6238 Alexander Drive, just west of Forest Park), the equally intimate play, "Rodney's Wife" is playing now through July 23rd. The play itself offers many dramatic twists and turns, but it's overshadowed by an excellent showcase of St. Louis talent, and a top-notch design effort. Leading the cast as Fay, aka "Rodney's Wife" is Kelly Howe, who sweeps in and out of her scenes with a curious intensity and a beautiful vulnerability. The part of Rodney is played with emotional heft and pleasing variety by John Wolbers. Though not fully supported by the text, Summer Baer as Lee does a wonderful job committing to the heightened circumstance. Rachel Tibbetts adds a much-appreciated comic relief in her role as Eva. And rounding out the cast are Oliver Bacus as Ted and Ben Ritchie as Henry – both of whom are a pleasure to watch as they create believable characters amidst the drama that surrounds them.
Another aspect of this production that is well worth seeing is how designer Bess Moynihan turns the chapel space into the interior of an Italian villa. It is immersive and creative and truly a delight. Moynihan also lights the space while making good use of the surrounding stained-glass windows. Costume Designer, Liz Hennings rises to the occasion by giving each actor a vibrant flair of the 1960s, and the additional treat of a period styles lobby display. Director Joe Hanrahan, who is also the Artistic Director of The Midnight Company, demonstrates not only a straightforward approach, but also the importance of great casting.
Folks who would like this show are those who are into great casts seen up-close and personal.
---
PopLifeStL
Midnight Company's Fine Performances And Skilled Craftsmanship Sharpen Explosive 'Rodney's Wife'
by Lynn Venhouse
July 14, 2022
During the ten-minute intermission, I overheard a woman in the audience tell her companion: "I hope my kids don't find my diaries." Whoa, and that reaction was before The Midnight Company's seismic second act of "Rodney's Wife." I surmised other parents probably shared that sentiment at some point during this unsettling, distressing drama written by Richard Nelson.
Director Joe Hanrahan, who is eager to explore different dimensions, does not shy away from edgy or dark, thinks cinematically, and has an affinity for the period and the inner workings of show business, slowly pulling back the curtain, so to speak. He has assembled a cast of six local acting heavyweights, who illustrate why they are so highly regarded, and the retro Italian setting is a designers' dream.
The daughter of Rodney and his second wife, who found her mother's diary from an eventful summer in 1962, introduces herself and takes us back to that time. Kelly Howe is believable in dual roles, carefully choosing what emotion to display when. The statuesque Fay is a former actress who had married a widower 10 years ago. Rodney (John Wolbers) is now a fading movie actor. Is she content in her current role as "Rodney's wife"?
In a quietly shattering performance, Howe starts out staying in the background while other big personalities suck the air out of the room — and then tries not to be suffocated. Her arrogant, domineering husband and his overbearing, busybody sister Eva (Rachel Tibbetts) try to control the temperature in the room. Eva was married to Rodney's manager but is now a widow. For people who pretend to live out loud, something is obviously 'off,' and subtle clues poke through the facades. Nelson builds tension, with anxiety and desperation fighting for attention in a shades of Anton Chekhov meets Tennessee Williams way, minus all-encompassing gloom and predictably overwrought hysteria.
Without spoiling any crucial plot turns, "Rodney's Wife" has many layers and moving parts in its portrayal of a dysfunctional family. Oh, it's complicated, all right. The melodramatic action is akin to divulging bombshells on a TV soap opera, and torching others with the secrets.
A prolific American writer, Nelson won a Tony Award for best book of a musical (James Joyce's "The Dead" in 2000), and several Obie Awards. "Rodney's Wife" was mounted off-Broadway in 2004 at the Playwrights Horizons, starring David Strathairn and Jessica Chastain as father and daughter.
As Fay prepares for a small celebration in a rented villa on the outskirts of Rome, well-heeled and seemingly carefree folks rush in, laughing and drinking copious amounts of alcohol. Rodney's daughter Lee (Summer Baer), who has been mostly away at boarding school and college, has surprised her father with big news — she is engaged to Ted, a smart, amiable American writer (Oliver Bacus).
Rodney is regaling his future son-in-law with boorish moviemaking stories. Turns out the actor, a legend in his own mind, is filming a spaghetti western, but this is not exactly Clint Eastwood as the Man with No Name. These are the low-budget early years of the Italian fascination with the American West, before Sergio Leone would make his mark with this distinctive genre. Dissatisfied and unpleasant, Rodney is rescued from his miserable experience by his new manager Henry (Ben Ritchie), who drops off a script that he views as more suitable for his talents, only they'd have to leave for America the next day. In addition, Henry, while professional and practical, has his own worries back home.
And why is Fay like a cat on a hot tin roof in the midst of the merriment? What started out as a forced happy family gathering unravels into shock and betrayals, attitudes are laid bare, and scabs are picked at and reformed. Some prefer not to play along, others mask their feelings for survival, and the perpetual role-playing is ongoing. All six are clinging – whether to fading beauty, to their comfortable lifestyle, to forging a new identity, to the past, to keeping up appearances, their deceptions, or to whom they think they are/should be.
As the self-absorbed Rodney, John Wolters is revelatory, displaying a dramatic heft that you don't often see when he's trotting the boards, usually (but not always) in lighter fare. I wish Nelson had not written Rodney as a cliché.
Sartorially splendid, Rachel Tibbetts' Eva craves the spotlight as much as her actor brother, and she fools no one as a busybody Karen trying to tell everyone else how to live their lives. Her equally loud brother indulges her, and Tibbetts embraces being abrasive in a role that's mostly comical, but she conveys enough depth to make it more than one-note.
As the not-fully-formed 25-year-old adult daughter Lee, Summer Baer modulates the tones between dutiful daughter, her stepmom's pal, tolerant of her hovering aunt and supportive fiancé to Ted. But what is it that she wants? A conflicted Lee doesn't appear to be as forceful expressing what she wants as everyone around her seems to know what's best for her.
Although Bacus portrays Ted as assured as he's making first impressions, it is as if Lee has blithely brought a prey into the lion's den. You feel for this guy, hoping he's better at seeing the red flags than we are.
Nelson has boxed himself into a corner narratively, and both Fay and Lee are frustratingly enigmatic – but the pair of actresses do everything they can for more fully realized interpretations.
However, his savvy choice of Rome 1962 is an exciting canvas for Bess Moynihan, whose scenic and lighting designs are astonishing, and for Liz Henning, whose astute costume designs are some of the best she's ever done on local stages. Miriam Whatley has designed props that are ideally suited to the atmosphere. Moynihan's flair for striking production design – complete with an inviting patio –provides a good flow for character movements. Her superb lighting, especially the natural dawn, effectively establishes the shifting moods over the course of a night and day.
The drama's impressive sleek look touches on what an attractive playground Italy was in the 1960s, not only because of the cultural revolution in movies, music, art, fashion, and style but how post-war Italy was putting fascism in the rear-view mirror and hedonism was in full throttle. Hanrahan and company are successful in creating an intoxicating vibe of exotic travel, lush surroundings, and a pop art palette without having the benefit of idyllic sun-drenched exteriors. (I mean, we've seen "Three Coins in the Fountain"! I digress…). As an example, Federico Fellini had unleashed "La Dolce Vita" in 1960 and was working on his opus, "8-1/2" (released in 1963), and he wasn't the only director getting buzz in this new golden age. Michelangelo Antonioni's "L'avventura" also was released in 1960.
Rodney looks like a guy who could be driving an Alfa Romeo while the handsome, well-mannered Ted could be tooling down the Amalfi Coast in a Fiat, doing his best Marcello Mastroanni. The women wear their stylish cocktail dresses and chic casual attire with aplomb, sometimes adorned with bright scarves, and their hair is fixed in elegant styles – Lee's swept-back ponytail, Eva's classic elegant knot. The air of luxury permeates the small space. During intermission or before/after the show, be sure to view a special fashion collection in the Chapel, which highlights haute couture of the era, and the designers, colors and styles that were famous.
Because of the fine performances, The Midnight Company has elevated this work, sharpening the explosive interpersonal dynamics. With inspired highly skilled craftmanship from the creative team, The Chapel's intimate space has been admirably transformed into a mid-century modern with an international aesthetic. Using the irony of such a luxurious landscape, Nelson has basically imprisoned his characters, who are products of their time, for better or for worse, which makes the sorrow and the unspoken regrets hang heavy in the air.
---
Broadway World

by James Lindhorst
July 15, 2022
The Midnight Company's current production of RODNEY'S WIFE is set in a small villa on the outskirts of Rome in the summer of 1962. Rodney, his daughter Lee from his first wife, his current wife Fay, and his sister Eva have traveled to Italy for his work in the film industry. While in Italy, his daughter introduces her secret fiancée Ted to her stepmother during a dinner party at the Italian villa. Seems Lee's fiancée is not the only secret this family is keeping. Harbored family secrets can leave victims in their wake, and often the victims can be unexpected as is the case in RODNEY'S WIFE.
Joe Hanrahan's direction tells an effective and entertaining story despite an unbalanced script that has many flaws. Strong performances build a dramatic tension that is as thick as the humid summer Italian air. This story is packed with plenty of emotional instability and raw emotion, but at times is plagued by scripted character choices that seem disingenuous to the characters central narrative.Kelly Howe's nuanced performance as Fay drives the story's plot. Her delivery and pensive confusion in the first act seem realistic, believable, sympathetic and genuine. Summer Baer as Lee and Oliver Bacus as her fiancée Ted make an attractive couple and support the Howe's performance with self-assured poised acting choices.John Wolbers as Rodney and Rachel Tibbetts as Rodney's sister Eva deliver performances that effectively support the narrative of the story, but their loud bombastic delivery is a distraction. This acting choices may have been effective if they were attempting to reach the back row of a 900-seat house. But in this tiny venue, their loud timbre and over annunciation lessened the sympathy and likability for the two characters.Overall, RODNEY'S WIFE is an entertaining family drama that is well-paced by Hanrahan's directorial vision.
JudyActTwo
The Midnight Company Serves Up Americans Abroad
by Judy Newmark
July 22, 2022
Some theater troupes stage only musicals. Some are devoted to the classics, or to new works, or to plays that address the concerns of particular ethnic groups. There are lots of ways that a troupe strives to assert a unique identity, one that makes them stand out in the crowd. But not the Midnight Company, which seems to reinvent itself with every show. Its current production, "Rodney's Wife," is a perfect example of this varied approach.
A smart, stylish drama about Americans in Rome, it's about the last thing you'd expect from the company that Joe Hanrahan co-founded in 1997 and still heads. Midnight has never been shy about presenting . . . shall we say, offbeat . . . work. But it's such a varied repertoire that ultimately, everything fits in – including this gripping drama of manners by Richard Nelson. You can't take your eyes off the stage. Under Hanrahan's direction, the actors and designers combine their talents to evoke a glamorous world – and the disturbing secrets that it hides.
Set in 1962, the whole play is set in a roomy, elegant house – thoughtfully designed and lit by Bess Moynihan - where Rodney (John Wolbers), an American movie star, is staying while he shoots a spaghetti Western. The household includes his second wife, Fay (Kelly Howe), Rodney's grown daughter, Lee (Summer Baer), the child of his first marriage, and Rodney's recently widowed sister, Eva (Rachel Tibbets, in a devasting performance – and in costumes match, courtesy of designer Liz Henning. Personally, I crave the hostess pajamas that Eva wears in the second act. (Henning also organized a small, sleek exhibit of Italian fashions from the early 1960s, nicely displayed near the theater. Che bella!)
This is not a happy family, something we cannot fail to notice early on, as Howe and Tibbets deploy acid-soaked endearments to decide who is supposed to serve what. Their confrontation – ostensibly charming, unmistakably hostile – sets the tone for the secret revelations that explode in the second act. Both performers do a terrific job: Howe deferential, Tibbets assertive. Of course, Eva just lost her husband – and in 1962, her position in the family went with him. Or did it? Do not count Eva out too fast. This woman misses nothing.
Wolbers is impressive as well. Though he's not a big man, he takes up all the space on stage – gesticulating grandly, broadly mocking the Italians who employ him, turning a modern chair into a kind of throne. The play might as well be called "Rodney's Daughter" or "Rodney's Sister." It's his world, and the women simply live there – or so it seems at first. Wolbers and Tibbetts make such a powerhouse team that you can't help but wonder about the parents who raised Rodney and Eva. Were they wolves?
If Rodney is the prince (and star) of the family, Eva is his prime minister, nearly drooling with satisfaction as she looks out for him and for herself. Oliver Bacus and Ben Ritchie round out the cast as Lee's fiancé, a writer her father really likes, and as Rodney's manager, a decent guy. They offer our only glimpses of life beyond the Roman hothouse where our American family feasts on Fay's delicious meals – and, as we discover, on one another. Small surprise when they don't have room for dessert.