---
Ladue News
Hanrahan Shines in Beautifully Written 'Charlie Johnson Reads All of Proust'
by Mark Bretz
June 11, 2019
Story: Charlie Johnson is taking a break from shopping with his wife Bonnie. He orders a coffee and some cookies at a shop to relieve his mid-afternoon hunger. As he dunks a cookie in his coffee cup, his daughter-in-law, Patricia, asks him if he is having a "Madeline moment". Charlie has no idea what she means, so the aspiring novelist informs her less-than-intellectual father-in-law that it is a phrase from French writer Marcel Proust's saga, Remembrance of Things Past. Right then and there, Charlie decides to read said work so that he can discuss it with Patricia at their Christmas gathering next year.
Charlie is unaware that the novel is seven volumes long until he orders a copy. It's dense and it's thick in its writing, to Charlie's way of thinking, but he's not one to give up easily. As he plods through the early 20th century writer's tome, Charlie learns about Proust and the audience finds out a good deal about the 75-year-old reader.
Everyone has a story. Proust had his and now we're learning Charlie's, and there's more to each than at first meets the eye.
Highlights: Joe Hanrahan shines in this one-character, one-act play beautifully written by Amy Crider and handsomely staged by The Midnight Company.
Other Info: Crider's work debuted earlier this year in Chicago, so artistic director Hanrahan and his Midnight Company are among the first to produce it anywhere. It's a disarmingly affecting tale, as warm as a pair of slippers Charlie might wear when perusing Proust's renowned work.
Chuck Winning's scenic design is lean but telling, with a chair, lamp and side table for Charlie as an anchor for his ruminations as he slowly paces the room. The back curtain is filled with a number of small, framed pieces, including a photo of the celebrated French writer.
Charlie is a Midwestern man through and through, a modern-day Harry Truman who lives by his father's credo to always be "doin' the right thing." He learned that important lesson as a child, we find out, a 7-year-old who went along with his older playmates' harassment of a 'queer,' a term unfamiliar to young Charlie. His father's harsh response to the lad's actions softened only a week later when Charlie brought home an 'A,' which led to the advice that has guided his life ever since. While Charlie stumbles along from book to book, he questions what exactly Proust himself ever did himself write this novel. No marriage, no children, no obvious means of employment, just ramblings about aristocracy, homosexuality and other topics that don't pay the bills. Still, he shrugs his shoulders and continues forward.
Crider's writing is effective and affecting as she paints a portrait of an Everyman who recalls, mostly without strong opinion, the circumstances which have shaped his quiet life. His late wife Katherine, e.g., aspired to a college education and a fulfilling career, but likely settled on Charlie and anonymity after a teen tragedy. Their only child, daughter Georgann, always has seemed a bit distant to Charlie. Only a neighbor's drunken revelation opens Charlie's eyes and a renewed effort on his part to connect with her. He tells us also about second wife Bonnie, her son Billy and his 'intellectual' wife Patricia, and we learn an amusing surprise about Patricia as well in Charlie's gentle conversations.
Director Sarah Lynne Holt coaxes a warm, witty and revealing performance from Hanrahan as the earnest Charlie, as the accomplished actor basks in the warmth of Tony Anselmo's soft lighting. Hanrahan wears his interpretation of the well-meaning if 'un-hip' Charlie like a favorite sweater, bringing several moments of poignancy in the course of the drama's 75 minutes. His Charlie is careful, methodical and precise in his thinking. You may not approve of Charlie or people like him because he isn't flashy or loud or aggressive enough for contemporary tastes. Attention must be paid, however, to this disarmingly perceptive man who has always tried to just be "doin' the right thing." Who knows, he may give you as much to think about as Proust.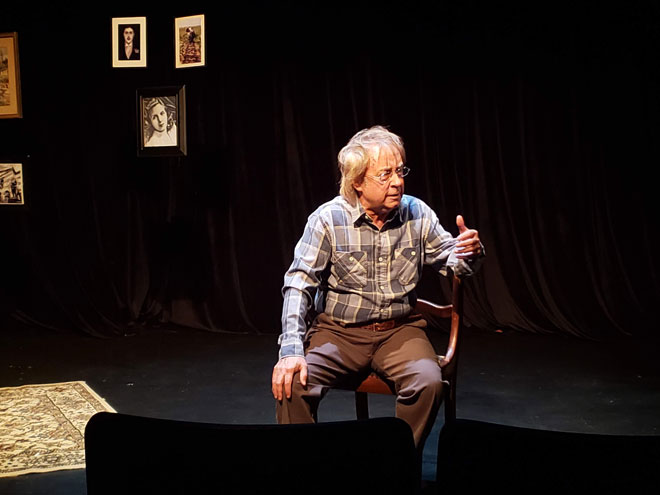 ---
St. Louis Post-Dispatch
Midnight Company's 'Charlie Johnson' is a gem.
By Calvin Wilson
June 4, 2019
Charlie Johnson (Joe Hanrahan) is an unpretentious, plainspoken guy who can't help but be insulted when his haughty daughter-in-law implies that he's never heard of Proust. So he decides to teach her a lesson: He'll read the French author's seven-volume novel, "Remembrance of Things Past" (also known as "In Search of Lost Time"). And the next time he sees her, she'll get an earful of his expertise.
What Charlie discovers — about Proust's magnum opus, but also about himself — is explored in playwright Amy Crider's one-person comedy-drama "Charlie Johnson Reads All of Proust," which runs through June 15 in an extraordinary Midnight Co. production.
As Charlie plows through "Remembrance," he finds himself questioning not only the author's technique but also his morality. But it soon becomes clear that in reading the massive novel, Charlie begins to achieve clarity about his own life.
Ironies abound. If a loved one hadn't suffered a violent attack, Charlie realizes, his own happiness might not have been possible. And if he hadn't embarked on his Proust project, that's just one of the revelations that might have eluded him.
Crider skillfully envisions Charlie as a man whose lack of self-awareness has served him well, but only up to a point. The very fact that he would take on such a formidable task as reading a massive literary work implies that there were always aspects of his character that he had simply declined to acknowledge.
Hanrahan brings Charlie to life with an engaging blend of humor and heart. It's a nuanced performance that's at once poignant and surprising. Director Sarah Lynne Holt wisely keeps things simple, allowing the audience to experience the exhilaration of Charlie's rant morphing into a reverie.
"Charlie Johnson Reads All of Proust" is small in scale but large in ambition and a gem that Hanrahan polishes to perfection.
---
KDHX
An aging everyman discovers new lessons in the thoughtfully compelling 'Charlie Johnson Reads All of Proust'
By Tina Farmer
June 5, 2019
The Midnight Company returns to its tradition of the one-man show with Amy Crider's "Charlie Johnson Reads All of Proust," a play that reminds us of the power of great literature and the ability to learn and change, no matter our age.
Charlie Johnson, a 75-year old retiree recently remarried after his first wife's death, is shopping with his second wife and family members one afternoon when he decides to take a break for coffee and a sweet. Caught up in a bit of reverie, his thoughts are interrupted when his stepdaughter-in-law asks if he's having a "Madeline moment." The reference to the opening of Proust's seven-volume "Remembrance of Things Past" is unfamiliar to Charlie. Feeling a bit schooled, he decides to read the book and bring it up for discussion when the kids visit for Christmas.
Clearly, Charlie does not yet know the story's length. Undaunted by that discovery, he plods through the books and offers thoughts, insightful and humorous, accompanied by personal stories that loosely connect. Charlie reacts to the social scheming and increasingly libertine views of Proust's characters with calculated and hesitant acceptance. When the daughter-in-law confesses she's only read the first volume, she inadvertently helps Charlie make an important change in his relationship with Georgeanne, the daughter he raised but from whom he's estranged.
Charlie is an everyman from a different era, and Joe Hanrahan expertly captures his demeanor and cadence in a chatty performance that makes most of his revelations come across with a matter-of-fact, everyday truth. Wearing the blinders of privilege and heteronormativity, as well as the unbridled optimism familiar in comfortably aging baby boomers, he's not always likeable but never intentionally unkind, with one important exception that he now regrets. Still, his language and attitude clearly reflect the sensibilities of bygone years and ingrained prejudices. For example, he refers to members of the LGBTQ community with an unconsciously disparaging tone and language that clearly indicates his ongoing discomfort. Additionally, until he read Proust, he was content with the fact that he got what he wanted – the girl of his dreams – without ever considering her wants or if she was happy, or at least satisfied, with their life together.
Director Sarah Holt and set designer Chuck Winning give Charlie the freedom to move around his mental and physical space, as well as a perfect oversized and well-worn armchair. The addition of various photos add a personal feel, though they aren't referenced; and the plate of fresh baked Madeline's on the side table, as well as Hanrahan's appreciative murmurs upon taking a bite of one, is a lovely touch. Finishing things off is Tony Anselmo's soft, mood-setting lighting design, which creates focus while helping the audience join in on Charlie's reverie.
What I'm missing here, however, is a sense of age and the weight of a life that, seemingly to this point, has lacked reflection or self-knowledge. Charlie takes pride in "doing the right thing," without ever considering how one defines "right" or if his "right thing" is the same as another's. Additionally, though I know there are plenty of spry and fit 75 year olds, there's a disconnection between some of Charlie's speech and the way he moves, and Holt and Hanrahan may want to explore physicality deeper on their next collaboration.
"Charlie Johnson Reads All of Proust" continues through June 15 at the Kranzberg Arts Center Black Box theatre. Though there are a few bumps and uncertain lines, the show is thoroughly engaging and Hanrahan's performance treats the language and subject with loving attention and genuine warmth.
---
Snoop's Theatre Thoughts.
Midnight Company's "Charlie Johnson" Makes a Literary Classic Personal.
by Michelle Kenyon
June 7, 2019
Joe Hanrahan has a knack for finding one-man shows that work for him, when he doesn't write them himself. St. Louis's king of the solo play has located another fascinating piece for his latest Midnight Company production. Directed by Sarah Lynne Holt, Amy Crider's one-act called Charlie Johnson Reads All of Proust provides a good showcase for Hanrahan as well as providing questions for all of its viewers to ponder.
The play's premise involved the 75-year-old Charlie (Hanrahan) who, in response to a question by his wife/partner's daughter-in-law, decides to read the entire 7 volume set of Marcel Proust's work known as Remembrance of Things Past, or In Search of Lost Time. He begins the exercise with the goal of simply being able to discuss the books with his relative and show her that he is able to understand them, but as he reads and continues to read, he begins to learn more about himself. His stories become more and more personal as he continues to read, becoming less about Proust's recounted memories and more about his own. Munching on Madeline cookies and recounting memories of his time in the military, his relationships with his late first wife Katherine, his current partner Bonnie (the play isn't clear if they're married or not), his daughter, his grandson, and more, we see a picture of an essentially "traditional" man who has consistently been challenged to question his traditional mindset. It's a very specific story, but with wide-ranging applications that many audience members will be able to relate to, from the very first question Charlie is asked–"what's your Madeleine Moment?" The explanation for that question is explained in the play if you haven't read the source material, but it's the one question that I think will be talked about the most.
It's an engaging play with a character who is sometimes easy to relate to, and sometimes more difficult to understand. Hanrahan, with his usual charm and presence, lends a lot of sympathy to Charlie without covering over his obtuseness. It's a role that seems tailor-made for Hanrahan, although sometimes I think he could have been even stuffier at the beginning so that his personal lessons and revelations would have had more power. Still, it's a compelling portrayal, and the technical aspects of the production lend just the right atmosphere to the storytelling, with a simple and "lived in" set design by Chuck Winning along with excellent lighting by Tony Anselmo and simple, effective staging by director Sarah Lynne Holt.
Charlie Johnson Reads All of Proust is a brief play, despite its long title and the even longer source material. It's a little over an hour with no intermission, but a lot of story happens in that short period of time, even though I wish there had been more resolution to some of the situations, and especially Charlie's relationship with his daughter. Overall, it's a thought-provoking show featuring another strong performance by Hanrahan, and it's sure to have audiences wondering about their own "Madeleine Moments", and possibly even reading Proust for themselves. It's a fine example of how literature can impact everyday life, especially in unexpected ways.

---
St Louis Limelight
'Charlie Johnson' Has Something to Say in Midnight Company's Solo Show.
By Lynn Venhaus
June 8, 2019
In The Midnight Company's charmer of a one-man show, "Charlie Johnson Reads All of Proust" is a good match for Joe Hanrahan's storytelling skills.
He plays an average Joe, 75, retired from insurance, whose mundane Midwest life includes Snappy Seniors activities and family to-dos. One day, Charlie doesn't realize that a package of cookies as a snack at Starbucks will lead to a reading adventure. He has what's called "a Madeleine moment," and thus enters the world of French literary legend Marcel Proust, more out of spite at his snobbish know-it-all daughter-in-law.
The cake-like cookie, sort of in the shape of a seashell, is associated with Proust's opus, "In Search of Lost Time," earlier known as "Remembrance of Things Past," which was published between 1913 and 1927, in seven parts. Dipping the cookie in his tea, the narrator is immediately transported to childhood memories.
On the surface, Paris during the French Third Republic couldn't be more different than contemporary Indiana, but then again, Charlie is open to the similarities and differences. At that time, France saw the rise of the middle class and the decline of the aristocracy. But it is through Proust's penchant for reflection and articulation about memory that sparks multiple revelations for Charlie.
And lest not forget perseverance. Many a literary scholar can't seem to work their way through all of Proust. The title in itself is a testament to fortitude. And in modern library terms, the seven volumes amount to 4,300 pages – and 2,000 characters.
Charlie proves to be quite an interesting character, a meaty role designed for Hanrahan's gifts. And he's well-suited to bring out the humor in playwright Amy Crider's work, which pops with personality. She is an astute observer of human nature, visually conjuring an assortment of regular folks you know you know.
The Kranzberg black box is simply outfitted with a comfortable easy chair, a well-worn living room space that provides an immediate sense of place. Chuck Winning's set design takes you to an everyman nook, with photographs and artwork that mean something, a statement on the artist's role in society and understanding an artist's life as influence. Tony Anselmo's lighting design also reflects on the lived-in quality.
Director Sarah Lynne Holt emphasizes Charlie's dignity and intelligence, while Hanrahan's monologue delivery brings out the absurdities in life we can all relate to, no matter our circumstances.
This solo sojourn is an insightful piece, a fanfare for the common man that the Midnight Company fluidly interpreted as a guy with something to say.