---
Ladue News
"The Midnight Company's 25th Anniversary Season Launches With ANOMALOUS EXPERIENCE
by Mark Bretz
May 5, 2022
Joe Hanrahan has seen a UFO. As in an "unidentified flying object," which is defined as "a mysterious object seen in the sky for which, it is claimed, no orthodox scientific explanation can be found."
Hanrahan, founder and artistic director of local theater troupe The Midnight Company, had his own not-very-close encounter with that UFO when he was in high school in the 1960s. A classmate of his at McBride High School called Hanrahan one evening around 8:30 and told him to look out his window. When Hanrahan did that, he saw an unfamiliar object in the sky for a brief period.
To his knowledge, there was no report about the "UFO" in the local media that night or the next day, and the event was shuffled by Hanrahan to a nether region of his brain. More than 50 years later, at his 50th high school class reunion, though, another classmate came up to him at the celebration and said, "I saw it, too," striking a resonating chord with Hanrahan.
That and another weird happenstance from Hanrahan's own life, along with the extraterrestrial story of a woman in nearby Godfrey in the early 1970s, serve as the basis for Hanrahan's latest play, "Anomalous Experience."
"Anomalous Experience" begins The Midnight Company's 25th anniversary season. It will be followed by Richard Nelson's complex family drama, "Rodney's Wife," in July, and then "St. Louis Woman," a play with music "about the songs and women of our city," written and directed by Hanrahan and performed by Laka, in October.
Hanrahan has read a number of books on UFOs, which are more often termed 'unexplained aerial phenomena" in contemporary references. His world premiere play, as the company's news release states, "is designed as a public lecture from a respected psychiatrist. He's been dealing with professional skepticism and even ridicule for his research into the phenomenon of alien abduction."
As the psychiatrist puts two different patients into hypnotic regression, he becomes convinced that "something very real, something profound, is happening to these people and to our world." Hanrahan says the story's ending likely will surprise his audience, although it's based on conclusions of actual investigators of UFOs and alleged alien abduction.
From stories out of Roswell, New Mexico, in 1947 to Steven Spielberg's epic 1977 "Close Encounters of the Third Kind" and my own favorite TV series, Chris Carter's "The X Files," reports of strange sightings, creepy encounters and persistent stories of other-worldly visits to Earth have fascinated Americans and others around the world for easily more than a century.
References to visitors from other planets also were reported prior to 1947, when the Roswell incident of a supposed crash of an alien spacecraft and the discovery of bodies of EBEs (extraterrestrial biological entities) gripped America. As FBI special agent Fox Mulder often remarked to his skeptical, scientific colleague, special agent Dana Scully in "The X Files," if scientific explanations for paranormal incidents do not provide satisfactory answers, "one must consider extreme possibilities."
The dictionary definition of "anomalous" is "deviating from what is standard, normal or expected." Sightings of unexplained aerial phenomena continue to occur with regularity in the 21st century, while the world often seems dramatically divided between believers and skeptics.
Mulder himself worked in his basement office at the FBI with an imposing photo of a "flying saucer" hovering in a poster behind him with the caption "I Want to Believe" describing the picture. As Hanrahan says about "Anomalous Experience," the presentation "is occurring in the timely context of the recent sightings of unknown aircraft by military pilots, and the subsequent investigations demanded by congress and the public."
Who knows? Physical evidence subjected to scientific scrutiny can be hard to bring to the table, as the persistent Mulder learned time and time again while investigating "The X Files."
Regardless, the subject of UFOS can make for riveting storytelling onstage as well as on the silver and small screens. Spinning intriguing yarns is something for which Hanrahan has proven to be adept throughout The Midnight Company's illustrious history; for example, he recently won the St. Louis Theater Circle Award for Best New Play for his work "Tinsel Town."
The cast for the show includes Joseph Garner, Payton Gillam and Hanrahan. "Anomalous Experience" will be directed by Morgan Maul-Smith.
"The long, hidden history of UFOs in our culture is reaching a tipping point," says Hanrahan. "Reported sightings are increasing, and disclosures from whistleblowers and other countries' governments are pressing the point. This is a real mystery. A modern ghost story."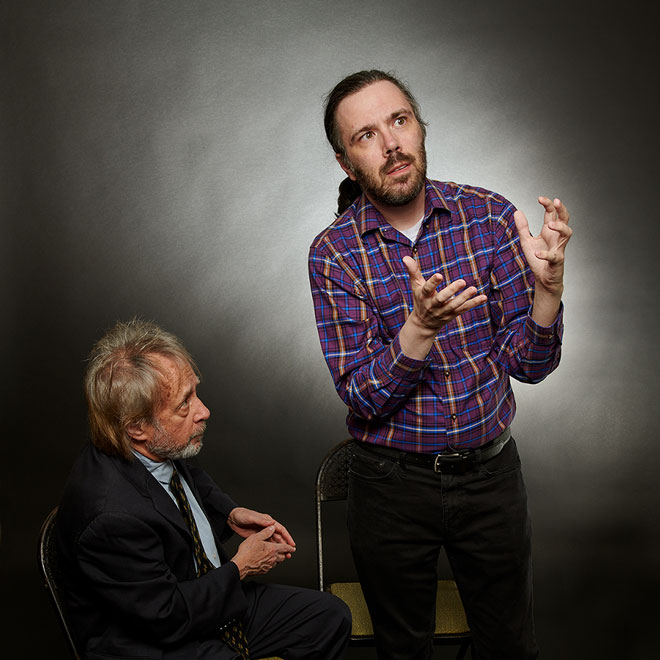 ---
Snoop's Theatre Thoughts
An Eerily Intriguing "Experience" from The Midnight Company
By Michelle Kenyon
May 7, 2022
Joe Hanrahan's Midnight Company is back, with an original show that's not very long in terms of time, but is full of intensity and meaning in its own way nonetheless. Anomalous Experience is actor-playwright Hanrahan's foray into the unexplained, covering the often controversial topic of alien abductions. It's an intriguing piece with a strong cast, but what stands out especially are the surprisingly strong production elements that add much to the overall sense of eeriness and mystery.
The play is presented in the format of a lecture by psychologist and professor James Collins (Hanrahan), who has worked with a variety of clients over the years who have claimed to have been abducted by aliens. He introduces us to two such clients–Virginia (Payton Gillam), whose case is described as more "classic", and Scott (Joseph Garner), whose tales are a little more unusual. It's all very straightforward in terms of presentation, but the tension ramps up as the stories get going.
There isn't much here in terms of subject matter that hasn't been covered in science fiction or shows like Unsolved Mysteries back in the day, but the actors make their stories compelling. Hanrahan makes an effective facilitator as Collins, and both Gillam and Garner are credible in their portrayals of their experiences. What especially adds to the experience, though, is the stellar work by sound designer Ellie Schwetye and lighting designer Tony Anselmo, in elevating this production from a simple interview format to a more increasingly chilling experience. As the characters tell their stories, the lighting and especially the sound effects add a creepy, suspenseful tone that punctuates the storytelling with surprising effectiveness. The pacing and staging by director Morgan Maul-Smith also lends much to the overall tone of the production, and even though you may have heard similar stories on TV or in movies before, these characters and their stories are made all the more compelling by the strong acting and excellent technical production.
No matter what you think about the topic of alien abduction in the real world, the topic makes for an intriguing subject as presented here. Anomalous Experience may not being breaking any new ground in its portrayal of this topic, but it's a story told especially well. It's a simply staged production, but an impressive cast and especially impressive technical design elevates the material. It's an engaging, occasionally chilling, and thought-provoking piece from The Midnight Company.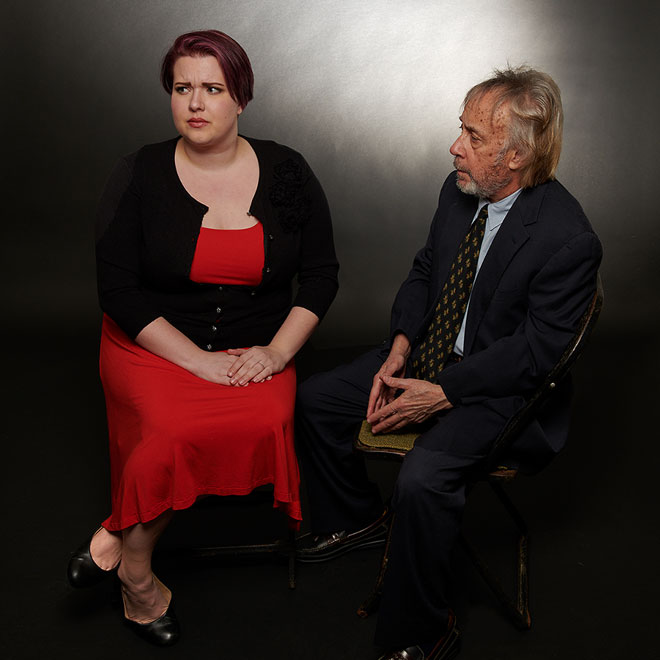 ---
Ladue News
Midnight Company's ANOMALOUS EXPERIENCE Hints at Extreme Possibilities of UFOs'
by Mark Bretz
May 10, 2022
Highlights: Artistic director Joe Hanrahan offers sobering food for thought in his world-premiere drama performed by The Midnight Company about the perennially controversial subjects of UFOs and alleged alien abductions, both in the United States and throughout the world.
Story: Speaking at a public lecture, a renowned psychiatrist bares his own psyche as he discusses the experiences of two of his patients. Those two people, Virginia and Scott, recounted in individual sessions with Dr. James Collins their frightening encounters with extraterrestrial biological entities in the past.
Curious about the number of cases of people who claim to have been victims of alien abduction, Collins subjects himself to considerable ridicule and professional disdain as he himself investigates sightings of unidentified flying objects – or unexplained aerial phenomena, as they are now termed by the federal government.
In his lecture, Collins relays what Virginia and Scott believe they experienced as they undergo regression hypnosis in their sessions with the psychiatrist. As he listens to them recount what happened while they are in their hypnotic states, Collins must consider whether his two patients are recalling actual events – or just vivid dreams they perceive to be true and accurate.
Regardless, both Virginia and Scott exhibit symptoms of fear and anxiety while being in Collins' therapeutic care. Does the psychiatrist believe them? Or does he think they merely are convinced by what others may term hallucinations? He's willing to put his own reputation on the line as he studies and considers the evidence of extraterrestrial visitors to Earth and the paranormal phenomena of alien abductions.
Other Info: The definition of "anomalous" is "deviating from what is standard, normal or expected." That certainly fits the experiences of Scott, Virginia and doubtless thousands of other people, if not more, since interest in the subject of UFOs entered the mainstream of popular culture in the mid-20th century, even alluding to prior experiences ("Chariots of the Gods," "In Search of Ancient Astronauts," etc.) in human history.
Hanrahan does a good job of encapsulating the interest in UFOs through slides offered in Collins' lecture, part of the meticulous production design by Kevin Bowman. The set itself consists of a lectern at stage left and, in front, a pair of chairs on either side as Collins treats Virginia (stage right) and Scott (stage left). It's enhanced with Tony Anselmo's soft, moody lighting design, which accentuates the creepy descriptions.
Hanrahan drew upon his own experiences with the unknown as well as the story of an East Side woman from Grafton who believed she had been abducted multiple times, much like the ex-wife of Cancer Man in "The X Files" played by Veronica Cartwright.
As Collins, Hanrahan carefully recalls incidents such as the fabled crash landing of an alien spacecraft in Roswell, New Mexico, in 1947, with the notable assistance of Bowman's slides of old newspaper accounts and sound designer Ellie Schwetye's eerie, ethereal music to evoke thoughts of the extraterrestrial, much like composer Mark Snow did with more than 200 episodes of "The X Files."
Payton Gillam and Joseph Garner bring two different approaches to their characters for director Morgan Maul-Smith. Gillam speaks more or less directly to Hanrahan's Collins, while Garner prefers to essentially address the audience as he primarily faces forward during his speeches. Both are effective in their own respective ways, showing their characters' fears and apprehensions in the process.
True to its presentation, "Anomalous Experience" is more clinical than dramatic in its structure and its realization. Hanrahan's Collins is reflective and contemplative throughout, while director Maul-Smith keeps the pacing and the dramatic level fairly consistent during the one-act show's 90 minutes of performance time.
To paraphrase what FBI Special Agent Fox Mulder famously told Special Agent, scientist and medical doctor Dana Scully at the beginning of the 11-season run (plus two cinematic films) of "The X Files": "When science cannot explain what we see or experience, we must consider extreme possibilities."
Hanrahan's conclusion, as recited by Collins, differs from analyses I've heard in previous approaches, both fictional and real accounts. It's an interesting and fascinating premise. To learn more, you should check out "Anomalous Experience" firsthand to draw your own conclusions.
---
Broadway World
World Premiere of ANOMALOUS EXPERIENCE at The Midnight Company At .Zack
by James Lindhorst
May 12, 2022
Joe Hanrahan's original play ANOMALOUS EXPERIENCE opened on Thursday, May 5th in its world premiere at .ZACK Theater. Produced by The Midnight Company and directed by Morgan Maul-Smith, ANOMALOUS EXPERIENCE examines two patients, in a clinical psychiatric lecture format, who claim to have been abducted by aliens. It is a dialogue driven script with believable stories thanks to the authentic performances of Joe Hanrahan, Payton Gillam and Joseph Garner.
The play opens with a respected psychiatrist lecturing about alien abductions. Doctor James Collins, played by Joe Hanrahan, has come under professional skepticism and ridicule for his research into the abduction phenomenon. While he's not exactly sure what is going on, the psychiatrist is convinced that something happened to these patients. Hanrahan's initial delivery is laced with an unconfident nervousness. It quickly becomes evident that this is an acting choice to convey the clinician's ambivalence in presenting a topic that has put his clinical reputation into question. Hanrahan, and the other two actors portraying the patients/subjects, disappear into their role and the audience is transported to an actual scientific lecture. The genuineness of the performances provides such realism that you quickly forget you're in the theater and not at an actual academic and scientific lecture.
Payton Gilliam, plays Virginia, a young married woman who seems to have a peaceful calm about her experience with alien abduction. She is mentally balanced and measured in her delivery as she conveys her experience with her multiple interactions with aliens. At no point during her portrayal do you think you are watching a performance. It is not until the 'video' of her hypnotic regression session that you realize that her experience was not completely peaceful. She is a credible character that makes you believe that an alien abduction has occurred.
Joseph Garner's performance as Scott steals the show. His eccentricities, tics and physical acting choices are reminiscent of Ben Platt's Tony Award winning performance in DEAR EVAN HANSEN. Garner's Scott seems to be affected by cognitive intrusions and confabulations. His delivery is animated and outlandish. The review of his hypnotic regression sessions is sexual, emotional and spellbinding. His portrayal is exactly the type of unbalanced that you would expect from a person who claims to be abducted by aliens. His performance is nothing short of amazing.
Hanrahan's script is a masterpiece. He has taken a supernatural topic and written dialogue that makes it plausible and believable. This is a script that needs attention and needs to reach a much broader audience. This is a play that could have a potential long run on Broadway. It is 80-minutes of attention-grabbing supernatural fun that goes by in mere seconds. His script has made me a Hanrahan fan.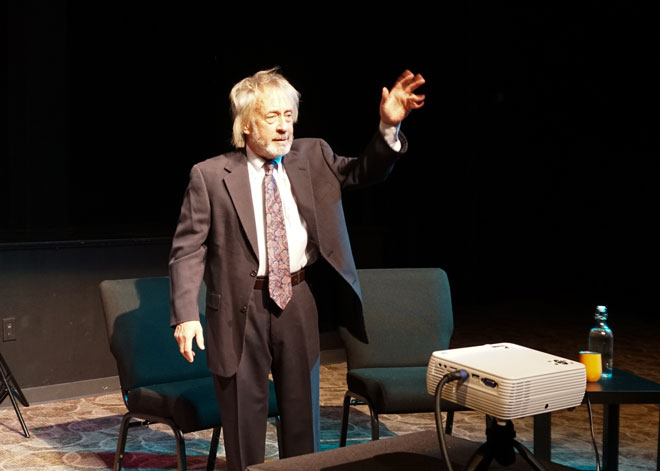 ---
KDHX
ANOMALOUS EXPERIENCE takes an interested look at alien abduction
by Tina Farmer
May 13, 2022
The Midnight Company presents a world premiere of artistic director Joe Hanrahan's newest play, a haunting, at times discomfiting tale of UFOs and aliens. Or are they simply modern ghosts, as psychologist and researcher James Collins asserts in his opening monologue.
The stage is set up like a lecture hall, with a large video screen and two sets of chairs, each with a small table in between. And Collins is here to discuss his recent work and findings in his studies of unknown, potentially extraterrestrial phenomena and, particularly, alien abduction. Collins explains that he will be sharing interviews with two subjects, Virginia and Scott, both of whom now believe they were visited and then abducted by aliens. The remainder of the play is a series of conversations and hypnosis conducted by Collins on the two subjects.
Hanrahan, as Collins, is his usual informatively loquacious self, and this character has a lot to say. It's clear the playwright has a deep connection to the material and Hanrahan imbues the scientist with a heavy dose of childlike enthusiasm that's present even in long recitations of evidence and facts. Payton Gillam and Joseph Garner are exceptionally expressive and emotionally varied in their characterizations of Virginia and Scott, the abductees. Each transitions effortlessly from casual chatter to skeptical curiosity and intimate descriptions of their interactions with the aliens and then back to friendly, unaffected normalcy.
Director Morgan Maul-Smith shows a sure hand guiding the transitions and ensuring that some of the under-hypnosis scenes don't become too graphic. There's a fine line here and the script's focus on ideas about breeding and interspecies sex makes the line and challenge all the more apparent. From a plot standpoint, the storyline became a bit much, and the details lost their specificity in favor of unfinished, though lofty, ponderence. Although the script may have erred on the side of too much information, the characterizations Maul-Smith drew from all three performers were grounded in reality, helping to keep the subject in check.
Kevin Bowmen's production design created the space, Ellie Schwetye's sound design helped tie the elements together while providing familiar audio cues that reminded us this was a story about aliens and ghosts. Tony Anselmo's lighting design didn't bring the house lights fully down until Hanrahan's character transitioned from his open statement to the interviews, an excellent job of drawing the audiences into the story.
The production feels a bit like the set for an episode of 60-minutes, the long-running news journalism weekly, which lends atmosphere and authenticity to the play. The problem with that approach is that this show runs 80 to 90 minutes and it's really tough to keep audiences fully engaged in the story without significant action or some sort of catalyst to change. Additionally, the show's conclusion seemed to suggest a deeper point to the script, one about love and, perhaps curiosity. However, after the almost gratuitous exploration of interspecies breeding, and with a lack of a firm resolution for any of the characters, the point feels superfluous rather than poignant. There's simply too much telling and not enough showing at its current length.
Though a bit too long, 'Anomalous Experience,' continuing through May 22, is interesting and entertaining. Director Maul-Smith elicits solid, realistic performances from the cast and maintains audience interest with well-intended direction. Judicious editing and a shorter run time may improve the experience for audiences as well.
---
PopLifeStL
The Midnight Company's Earnest Drama ANOMALOUS EXPERIENCE Recounts Alien Abductions
by Lynn Venhouse
May 20, 2022
The truth is out there, "The X Files" told us during 11 seasons on television. For believers of any paranormal or extra-terrestrial phenomena, some sort of proof helps build a convincing case. "Anomalous Experience" earnestly scratches the surface but is only a piece of an ever-evolving puzzle for truth-seekers.
Inspired by true events, Joe Hanrahan's original play is a serious-minded drama taking a clinical approach as a public lecture by a psychiatrist who has endured ridicule about his studies into alien abductions and features two patients sharing their experiences.
A key component of science fiction during the last half of the 20th century – the so-called 'Atomic Age' — has been stories centered on aliens, whether Unidentified Flying Objects, abductions, or exploratory visits from extra-terrestrials.
But now, with the government acknowledging UFOs and recent sightings of unknown aircraft by military pilots, which are being investigated (even if Area 51 folklore remains shrouded in mystery), tales this century are more accepted and not viewed as merely the rantings of kooks.
However, a heavy dose of skepticism exists about alien abductions. That's the focus of actor-playwright Hanrahan, who based his character on a real professor who forged ahead in his research despite the nay-sayers.
Hanrahan won a St. Louis Theater Circle Award in March for his original play "Tinsel Town," which is three showbiz vignettes taking place over a 24-hour period in Los Angeles, presented in 2021, and was nominated for his nostalgic one-man show "Now Playing Third Base for the St. Louis Cardinals…Bond…James Bond." This is a different direction, and he has meticulously researched the subject to present it in a matter of fact, not preachy or fearful, way.
The sobering material touches on such familiar cases as Roswell, N.M., and goes back to ancient times (Chariots of the Gods) through production designer Kevin Bowman's impressive slide show.
Given Midnight's penchant for small character studies, the show is simply yet effectively staged, with Kevin Bowman's minimal set.
Director Morgan Maul-Smith strips it down to maintain an air of gravitas through the actors – Hanrahan as James Collins and Joseph Garner and Payton Gillam as the two patients Scott and Virginia who believe they were abducted by aliens.
Anxious and apprehensive about their reception, but steadfast in their beliefs that something profound happened to them, Virginia and Scott share their harrowing experiences and re-enact hypnotic regression in a natural progression.
Both performers are engaging in conversations with Hanrahan, and Garner looks directly at the audience with his compelling experience. He is particularly haunting in his graphic descriptions of a breeding incident, and his struggles to cope with what has taken place. Gillam is effective in her recount of how her life changed, including her marriage.
That eerie uncertainty is carried through Ellie Schwetye's masterful sound design and Tony Anselmo's lighting design.
After their recount, it's anti-climactic when the 80-minute play ends, because we don't go farther in their lives. It would be interesting to see how their lives changed in the years since their encounters, if they felt they were being observed or studied.
This uncommon tale benefits from the strong actors, but the play is more sensible than sensational – just in case you were looking for escalating melodrama and shifting behaviors. As we've become accustomed to in fictional narratives on aliens, this is just the beginning.
"Anomalous Experience" is a thought-provoking look into unexplained abnormal events that make for a modern ghost story, although light on thrills and chills.
---
JudyActTwo
Stranger Than What?
by Judy Newmark
May 15, 2022
Actor, director and playwright, Joe Hanrahan is known for his versatility, a quality rivaled by his industrial-strength work ethic. His troupe, The Midnight Company, always seems to have something going.
Right now it's "Anomalous Experience," running at the .Zach through May 21. Hanrahan wrote it. He also plays James Collins, a psychiatrist who has never been abducted by aliens – unlike two of his subjects, Virginia (Payton Gillam) and Scott (Joseph Garner).
Many people doubt their claims about abduction. But Dr. Collins takes them seriously. A good listener who has been researching these stories for years (at some expense to his own reputation), he is at the very least open to possibilities. As it happens, that's exactly the effect these "anomalous experiences" have had on Virginia and Scott. They are more open, and in important ways, happier.
"Anomalous Experience" is not a strong, well-crafted play on the order of Hanrahan's superb "Tinsel Town," which the St. Louis Theater Circle honored with its Outstanding New Play Award for 2020-2021. Staged as a lecture in which the doctor presents his two case studies, it's looser and less deliberately theatrical.
In fact, though "Anomalous Experience" is scripted, you might feel as if you're watching long-form improv. That might also be because Gillam and Garner, under the direction of Morgan Maul-Smith, sound remarkably spontaneous – just speaking to their doctor, not planning things out. It's a good touch.
Besides, big changes in style and tone make Hanrahan's plays intriguing. From his folkloric "The Ballad of Jesse James" in 1998 (a personal favorite) to last year's absorbing on-stage memoir, "Now Playing Third Base for the St. Louis Cardinals ... Bond, James Bond," you never know where Hanrahan's curious mind will go next. After decades on the St. Louis theater scene, he's still keeping it fresh.