---
Two on the Aisle
by Gerry Kowarsky
/ August, 2022
The Midnight Company has mounted another hybrid of theater and cabaret at Blue Strawberry Showroom & Lounge. Once again, Joe Hanrahan is the playwright and director, and the show is a tribute to a legendary American singer.
This time, the legend is Judy Garland. The compelling performer is Jennelle Gilreath Owens. The intriguing show is entitled You Made Me Love You.
The song of the same name is first number of the evening. When she was 14 years old, Garland sang this number at a birthday party MGM executives threw for Clark Gable. She repeated the performance in Broadway Melody of 1938 while looking at Gable's picture.
Owens' introduction touches on the two major topics of the of the play: Garland's life and its impact on Owens.
The wheel of Fortune spun around many times for Garland. Her story is one of enormous talent and recurring triumphs and tragedies. The seed of doing a Garland show was planted for Owens when a college voice teacher told her she had a vocal quality very reminiscent of Garland's. Later, when Owens was looking for work, she auditioned for the part of Garland for a USO variety show featuring 1940s celebrities. She got the part and sang "Somewhere Over the Rainbow."
This experience prompted Owens to learn more about USO Camp shows, and she continued participating in them. At one event, she met a re-enactor who would eventually play an important part in her life.
Hanrahan's script adroitly incorporates songs from Garland's repertory into an absorbing narrative. Along the way, Owens speaks with tasteful candor about the parallels between the highs and lows of her life and Garland's. At times on opening night, Owens was visibly moved. I was moved, too, though I hope not visibly.
In addition to the standards already mentioned, the solo song list includes:
• "I'm Always Chasing Rainbows"
• "Zing! Went the Strings of My Heart"
• "Embraceable You"
• "The Trolley Song"
• "Atchison, Topeka and The Santa Fe"
• "The Man Who Got Away"
• "Come Rain or Come Shine"
• "Smile"
Owens brings an attractive voice and perceptive interpretations to these songs and two duets with accomplished guest singers:
• "For Me and My Gal," with Jeffrey Wright
• "Happy Days/Get Happy" with Alexandria Dryer
Kimmie Kidd will be a guest singer in later performances.
The excellent band includes music director John Gerdes on bass, Lea Gerdes on winds, Paul Cereghino on piano, and Clarence "Clancy" Newell on percussion.


---
Broadway World
by James Lindhorst / August 3, 2023
The Midnight Company is once again collaborating with The Blue Strawberry, the premier cabaret club in the St. Louis Area, to produce another narrative driven cabaret performance. YOU MADE ME LOVE YOU is a nostalgic look back at the life and career of Judy Garland. Jennelle Gilreath Owens sings the song catalog of Garland while narrating a story on the life of the troubled superstar. Owens is backed by a spectacular quartet led by Music Director John Gerdes. He is joined by Paul Cereghino on Piano, Clarence "Clancy" Newell on drums/percussion, and Lea Gerdes playing a variety of woodwind instruments.
YOU MADE ME LOVE YOU is an delightful evening of Judy Garland songs that were performed in live concerts or that were recorded for the movies that she starred in for MGM and other studios. Owens is comfortable being front and center for a cabaret style musical performance. One can sense the enjoyment she gets from sharing this music with her audience. She is a lovely storyteller, and the script works best when she is narrating the career and life of Garland. While Owens shares that her college voice teacher thought she had vocal qualities similar to Garland, this performance is not an impersonation of Judy Garland. This is an artist putting her own spin on the standards that are loved by Garland's fans.
There were many moments where Owens delivered a pleasant vocal performance with music that was arranged in a slightly different style than may be expected. Of note was her unique performances of "On the Atchison, Topeka and the Santa Fe," and "Over the Rainbow." She opened her set with a sincere rendition of "(Dear Mr. Gable) You Made Me Love You," and it was a special moment when she tugged on the heartstrings of civic pride with "The Trolley Song" from the movie MEET ME IN ST. LOUIS. Not every song was delivered perfectly, and one big miss was her duet with Jeffrey Wright. Wright joined her on stage to sing "Me and My Gal" and on this particular evening he unfortunately struggled in his performance and that had an effect on Owen's delivery of the song as well. The highlight of the night was when Owens was joined on stage by the dynamic and talented Kimmie Kidd-Booker to sing the duet of "Get Happy /Happy Days are Here Again" that Garland sang on a television special with Barbra Streisand. Owens and Kidd-Booker knocked it out of the park.
The band and the sound mixing were exceptional. Not only did the band sound spectacular, but at no point did they overpower Owen's vocal performance. One big highlight was the spontaneous applause for Lea Gerdes following one of her solos on woodwinds. Her playing was simply exquisite. The Blue Strawberry is the perfect venue for an intimate narrative-driven cabaret shows with a small band. It is not surprising that this venue continues to sell out shows, especially when they collaborate with Hanrahan and Midnight Company on entertaining productions.
The show was written and directed by Joe Hanrahan. He gave Owens plenty of material to work with when it came to the life and career of Garland. The script addressed her start as one of The Gumm Sisters family singing group, her Hollywood audition, the early days of her career at MGM, and the concerts she performed later in life. While Hanrahan paid tribute to Garland's talent, he did not avoid the more troublesome parts of Garland's life including her struggles with addiction and her accidental death from an overdose. YOU MADE ME LOVE YOU was at its best when telling Garland's story. The scripted part of the show was less effective when attempting to draw parallels between Owens' and Garland's life.
Fans of Judy Garland will love Midnight Company's production of YOU MADE ME LOVE YOU for three reasons. First, because Hanrahan's script about Garland's life and career is compelling. Second, because Owens is relatable when she is sharing Garland's story with the audience. Finally, because hearing some of Garland's most loved songs makes for an evening of delightful nostalgia.
---
Ladue News
The Midnight Company pays tribute to Hollywood legend Judy Garland in new show
by Mark Bretz / August 9, 2023
Story: The life, career and tribulations of Hollywood legend Judy Garland are recalled in this cabaret performance by Jennelle Gilreath Owens, who weaves her own connections to the performer often referred to as the last of the great vaudevillians. Writer Joe Hanrahan provides details about the woman born Frances Gumm in 1922, who went on to become the most famous of the performing Gumm Sisters, as relayed by Owens.
Highlights: Hanrahan, who is also The Midnight Company's founder and artistic director, returns to the Blue Strawberry, the venue for his wildly successful piece on Linda Ronstadt, "Just One Look." This new show portrays an informative look at another American song stylist, Judy Garland, in a one-woman, one-act cabaret/theater hybrid centered on a heartfelt presentation by Owens.
Other info: The show's title, "You Made Me Love You," refers to the song sung by the 15-year-old Garland to Hollywood star Clark Gable at a birthday party in his honor thrown by MGM Studios. Owens tells the audience that, early in her performance training, a voice coach told her that her vocal quality was "very close" to Garland's. Not the worst compliment by far.
With Hanrahan's script, Owens tells the capacity crowd at the Blue Strawberry about Garland's often troubled career, from her time as a child performer at MGM, where film producer and MGM co-founder Louis Mayer referred to her as "my little hunchback," to her relationships with men, who, in the case of her father and, later, her husband, were gay men in heterosexual marriages.
Owens intersperses elements of her own life into the narrative, including a reference to a charming man she noticed at a World War II reenactment as part of her USO performances. Those personal reminiscences help fuel her presentation of Garland performing such classic ballads as "Somewhere Over the Rainbow" and "Chasing Rainbows," and more upbeat numbers including "The Trolley Song" from the classic film "Meet Me in St. Louis."
Owens is backed by a first-rate combo which features Paul Cereghino on piano, percussionist Clancy Newell, woodwinds musician Lea Gerdes and music director/bass player John Gerdes. She's also joined on stage for a couple of duets, featuring Kimmie Kidd, Jeffrey Wright and Alexandria Dryer, two at each performance.
Cabaret often merges the dual arts of singing and storytelling, in which the artist reveals innermost feelings with an audience of friends and/or strangers. In the case of "You Made Me Love You," Owens presents not just her own back story but also, courtesy of Hanrahan's research and script, tales of one of Hollywood's most enduring legends and her often star-crossed life.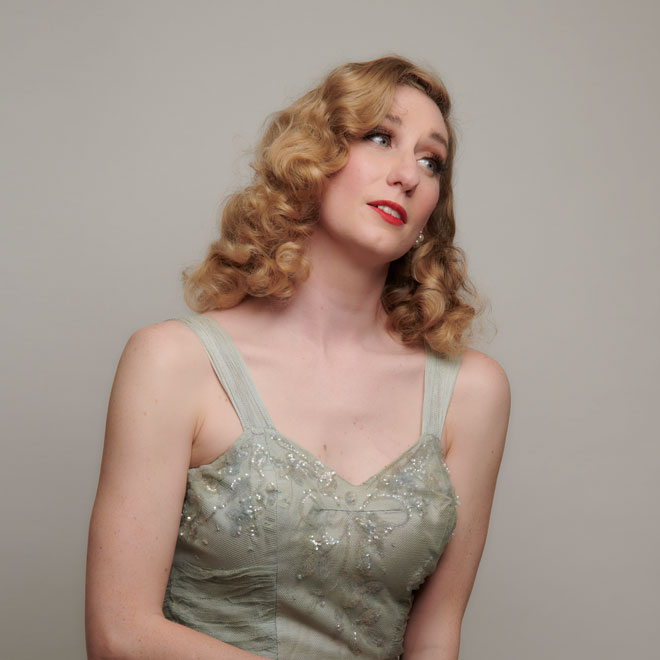 ---
PopLifeStL
Owens Fervently Presents Heartfelt Tribute To Judy Garland In Solo Show
by Lynn Venhaus / August 9, 2023
Singer-actress Jennelle Gilreath Owens is an old soul. And we are fortunate to experience it in her labors of love.
For a cabaret-theater presentation this summer at the Blue Strawberry, she has assembled a personal tribute to Judy Garland –"You Made Me Love You," and has put her heart and soul into it.
She plays herself and intertwines elements of her life's challenges with Judy's tough times. Judy died tragically at age 47.
The story is tinged with sadness. Yet the star's luster doesn't lose any power. Owens' luminous talent and warm personality make it not just a sentimental journey, but a substantive presentation about our chosen paths. A big takeaway is how people affect us through their gifts, and how we decide to share our gifts matters.
Playwright Joe Hanrahan, artistic director of The Midnight Company, has written a script that hits the highs and lows of Garland's career and life. He also smoothly directed the show.
Owens starts off strong with the title song, the fan letter to Clark Gable that Garland sang at age 15 in the movie "Broadway Melody of 1938."
A longtime fan of the acclaimed singer-actress-dancer, Owens talks about the connection that Garland had with her ardent fans. She was a much-loved star, known for her vulnerability, achingly tender, gorgeous voice, and beautiful spirit, soaring in the '30s and '40s, and trying to stay afloat in the '50s and '60s. She had man troubles, struggled with addiction, fragile mental and physical health, emotional trauma from abusive childhood, and career ups and downs.
Garland appeared in some of the most delightful movie musicals of all-time, including "Meet Me in St. Louis," "The Harvey Girls," "Easter Parade," "Summer Stock," "Girl Crazy," "In the Good Old Summertime," "Babes in Arms" and "The Pirate."
Owens has selected signature songs from those and the Great American Songbook, ones that are strongly identified with Judy –including a bittersweet rendition of "Somewhere Over the Rainbow," from her most iconic role as Dorothy Gale in "The Wizard of Oz."
Two accomplished guest singers joined her on stage for one number each. Jeffrey Wright endearingly sang the Gene Kelly part in "For Me and My Gal," the 1942 vaudeville-centered musical in which Kelly made his film debut, and it was a lovely pairing.
For a heartfelt mash-up finale, Kimmie Kidd-Booker wistfully sang "Happy Days Are Here Again" while Owens added "Get Happy," replicating the famous pairing when rising star Barbra Streisand appeared on "The Judy Garland Show" in October 1963. What a fabulous snapshot and a grand way to end the evening.
In a retrospective of Garland's career, touching on disappointments noted in the 2019 biopic drama "Judy," which is based on the superior play, "End of the Rainbow," Owens mentions Judy's two Oscar nominations, in "A Star is Born"1954 remake and "Judgment at Nuremberg" in 1961. She sings the memorable torch song Judy delivered in her Oscar-worthy role (she was robbed): "The Man That Got Away."
Owens' selections ran the gamut of jaunty ("The Trolley Song" – from "Meet Me in St. Louis"), vibrant ("Come Rain or Come Shine" – from Judy's 1961 Carnegie Hall concert), silky ("Embraceable You" from "Girl Crazy") and haunting (Charlie Chaplin's "Smile" – from her memorable appearance on "The Ed Sullivan Show" in 1963) – all sung with conviction.
On the small stage, she was supported by a mighty combo of stellar musicians, who helped make it a polished presentation. Music Director John Gerdes led Lea Gerdes on woodwinds, Paul Cereghino on piano, and Clarence "Clancy" Newell on drums/percussion.
Owens, who has appeared in regional professional theater and local community theater for the past 10 years, earning multiple award nominations, has two other passions as a performer. She travels the country to present a World War II immersive USO show, "Dixie D's Canteen," which captures the 1940s songs and spirit of the Greatest Generation.
She teared up talking about her experiences entertaining military veterans. She is also a performer, producer, emcee, and member of The Bon Bons Burlesque Troupe.