---
Broadway World
by James Lindhorst
/ July 15, 2023
When families experience disappointment, pain, divorce, assault, victimization and death, life's struggles can often be made easier with the support of extended family members. Upon initial examination, Cindy Lou Johnson's play THE YEARS seems like a simple telling of a series of upsetting life events that are experienced by three women over a 17-year period. This play has often been criticized as a work with weak dramatic arc and characters who aren't fully developed. But that argument minimizes the strength that each of these women provide one another through encouragement, concern, care, and compassion. It's that support network that bestows the mechanism to not only cope, but to thrive while overcoming grief and sorrow while learning to forgive and let go.
Sisters Andrea (Alicen Moser) and Eloise (Summer Baer), and their first cousin Isabella (Ashley Bauman) are the trio of women who help one another cope with the hardships that life throws at them. Moser, Baer and Bauman access their character's genuine feelings by tapping into the character's emotional state. Each of the three actors realistically convey their character's anger, love, sadness, fear and joy. It is in each of their emotional performances that make The Midnight Company's production of THE YEARS compelling. There is such realness in their performances that the audience senses their familial ties.
Joe Hanrahan strength as a director is grounded in his competence for telling convincing stories. In this production of THE YEARS, he helps his actors mine the text to identify each character's truth. He relies on Johnson's story and trusts the in the skills of each of his gifted actors. Hanrahan recognizes that it's the interrelationships that drive this character driven story and he places the entire production on the back of his talented young cast.
While THE YEARS deals with heartbreaking, painful and difficult subject matter, it is not a grim play. The Midnight Company's production is a moving story of how people can rise above their personal ordeals when they are supported by loving relationships.
---
Snoops Theatre Thoughts
Midnight Company Highlights Relationships, Strong Acting in "The Years"
by Michelle Kenyon / July 14, 2023
The Midnight Company puts on some fascinating plays. Whether comedy or drama, one-person shows or ensemble pieces, the shows from this company always seem to offer something to think about, or new angles on aspects of life and relationships. Their latest piece, Cindy Lou Johnson's The Years, is no exception. Directed by Midnight's Artistic Director Joe Hanrahan and featuring a universally excellent cast, this play offers a look at family relationships, chance encounters, and the sometimes surprising consequences of people's actions.
People can influence and affect one another in a variety of sometimes unexpected ways. The Years looks at a series of incidents in the life of a family and of a stranger who unwittingly begins a chain of connected events that reverberates over several years. It begins on a wedding day, as Andrea (Alicen Moser) prepares to get married and, after a traumatic event involving a strange man (Joseph Garner), has to deal with her family members who are all dealing with their own personal issues, as both Andrea and her sister Eloise (Summer Baer) are still grieving the relatively recent loss of their mother, and Eloise's husband Jeff (Michael Pierce) arrives with unwelcome news. Meanwhile, their fastidious cousin Isabella (Ashley Bauman) tries to make everything perfect for the wedding, and their other cousin Andrew (Joey File) offers his own cynical view of marriage while serving as a sounding board for his cousins. As the story goes on, the years pass, and there are more weddings and more chance encounters, as the man from the first scene, whose name is Bartholomew, finds he can't escape what happened earlier in his life no matter how much he thought he could, Andrea deals with her own view of herself and her life choices, and the cousins are faced with harsh truths in their relationships with one another, particularly brother and sister Isabella and Andrew.
There isn't much detail I can go into without spoiling, but I will say that this is a compelling ensemble drama where all of the characters are given their weightier moments, although there is also a degree of humor that runs through the show that helps to ease the tensions at times, and emphasize it at others. It may seem like an odd series of situations, and it relies a lot on what could be seen as some unbelievable coincidences, but the play, and the performances, make all these seemingly unlikely events seem credible. The performances are first-rate across the board, as well; so much so that it's difficult to single anyone out. All of the players present truly believable characters and situations, with superb ensemble chemistry and thoroughly authentic-seeming relationships. The staging and pacing by director Hanrahan is also excellent, with the emotional moments building in ways that seem both natural and compelling.
The minimalist set by Brad Slavik serves the story well, using the space at the Chapel venue to excellent effect. Costume designer Liz Henning has outfitted the cast appropriately for their characters, and there's also appropriate atmospheric lighting by Tony Anselmo. The use of music in transition scenes is also particularly effective.
I wasn't familiar with The Years before Midnight Company announced they were staging it, and I'm grateful to The Midnight Company for bringing it into my awareness. This is an intriguing, occasionally intense, and highly thought-provoking story that's told well by a fantastic cast. It's a remarkable production.
---
Riverfront Times
The Midnight Company's The Years Is a Compelling and Somber Drama
Tina Farmer / July 25, 2023
The tragic heroine Anna Karenina observed that "every unhappy family is unhappy in its own way." Cindy Lou Johnson's affecting The Years illustrates this assertion through the uniquely sad yet tender tale of two sisters, Andrea and Eloise. The intimate drama, directed with sensitivity by Joe Hanrahan, reveals the tragedies — large and small — that shape the women's lives. While the audience may not find answers to every question the sisters stir up, well-connected and controlled performances draw us into the pain and deep longing that blankets the siblings like thick fog.
The play opens on Andrea's wedding day, when she is mugged while running an unplanned work errand. Consumed with dread, her attacker rationalizes his actions but is clearly racked with guilt. For her part, Andrea tries to pretend nothing happened; she doesn't want to file a police report and plans to repay the stolen funds from her own account. Back at the house, Eloise is stumbling through a different, though not entirely surprising, misfortune. Both sisters are enveloped in a pervasive uncertainty that influences every action, causing them to sublimate their true feelings with empty assurances.
Preparations for the wedding bring up unresolved feelings each attempts to stifle accompanied by the well meaning, if sometimes awkward, attempts at cheerfulness and order from their cousins. The characters' lives, including Andrea's mugger, intersect over the following years, each scene marked with confusion and unhappiness. And, though this device stretches plausibility, it does so with necessary intention, eventually coalescing through unexpected honesty and acts of absolution that offer comforting release.
Johnson's characters are psychologically complex but guileless, showing but not quite seeing (or perhaps not wanting to see) the truths in front of them. Alicen Moser and Summer Baer are well paired as sisters Andrea and Eloise, reliant on each other with a peculiar and effective detachment from themselves that suggests shared trauma. Moser and Baer are sympathetically connected, creating authentic characters that feel cut from the same cloth yet individually distinct. Ashley Bauman and Joey File are a study in contradictions as cousins Isabella and Andrew. Bauman is a constantly moving and fussing presence, as if any issue can be solved by polite resolve and the perfect decor. File is more observant and contemplative, seeking beauty and hidden substance where it is least expected. Joseph Garner, as Bartholomew, is puzzling and preternaturally erratic but has a forceful and unforgiving conscience. Michael Pierce rounds out the cast in two key scenes.
The Years languishes in the gray spaces between recollection and response with a heavy tragic tone. The characters feel realistic but somehow beautifully and compellingly out of sync with the world around them. Instead of moving forward in their lives, they are suspended in dense air, thick with the sense that something more meaningful is just barely eluding their grasp. The effect is almost hypnotic, viscerally emotional and quite fascinating. Though weighted with sadness, the story and evocative performances deliver a surprisingly cathartic resolution.
---
Two On The Aisle
by Gerry Kowarsky / July, 2023
In 1994, I wrote a glowing review of The Years, by Cindy Lou Johnson, at the Orthwein Theatre Company. The director of that staging, Joe Hanrahan, has remounted the show with The Midnight Company. Once again, the play and the production are dazzling.
In the opening scene, a masked man knocks down Andrea, who is on her way to the bank to deposit the day's receipts from a bookstore. The attacker is considerate, as muggers go. He doesn't want to hurt Andrea. He just needs money to change his life.
Andrea comes away from the incident with a black eye and a cut lip. They are inconvenient because this is her wedding day. Other injuries are less obvious.
To protect the mugger, Andrea deposits her own money in the bank instead of reporting the robbery. She says she was hurt in a fall when she speaks with her older sister, Eloise, and her cousins, Isabella and Andrew.
Later in the day, Andrea's attacker, Bartholomew, has an unsettling encounter at an eatery. He is sitting next to Andrew and hears the about the mugging and its aftermath from the victim's point of view.
Thirteen years later, Andrea's family comes together again, this time for Eloise's second marriage. Her first husband, Jeffrey, left her on Andrea's wedding day. Eloise has a stressful wedding day, too. Her dress and the food for her reception are delivered to the wrong address.
A drunk attacks Andrea on her way to Eloise's wedding. She is rescued by Bartholomew, who is now a successful entrepreneur. After taking Andrea home, Bartholomew learns from Andrew how the earlier attack affected Andrea's life. Andrew is a photographer, and he captures Bartholomew's discomfiture in a picture.
Four years later, Andrea's family gathers for a sad occasion. Once again, there is a striking coincidence. In a lesser play, the plot's improbabilities might bother me, but not in The Years. The coincidences enable Johnson to explore questions of relationships and responsibility with extraordinary insight. The play ends with hard-won consolation.
The Midnight production features gripping performance by Alicen Moser as Andrea, Joseph Garner as Bartholomew, Ashley Bauman as Isabella, Joey File as Andrew, Summer Baer as Eloise, and Michael Pierce as Jeff. They capture the emotional pitch of every interaction and are particularly adept at conveying their characters' feelings silently when one person in a conversation knows more than the others. The cast is delightful in the comic scenes.
The dominant feature of Brad Slavik's set design is a group of upstage rectangles constructed from plastic pipes. A white cloth with four vertical slits hangs from the top of each structure. Entrances and exits through these portals make the production more fluid and evocative than it would have been with realistic doorways.
Most of the action takes place in front of the long east wall of the theater in The Chapel. The scene at the eatery happens on The Chapel's stage, which is to the audience's right. Tony Anselmo's lighting nicely calls attention to parts of the wide performance area that need to be the center of interest, such as the place where Andrea is accosted. The attacks are convincing in Michael Pierce's fight choreography. The costumes by production manager Liz Henning are exactly right for the characters and the occasions. What Eloise is wearing before her wedding dress arrives will bring a smile to many faces.
---
Ladoue News
Life's unpredictability leaves mark on extended family in The Midnight Company's production of 'The Years'
by Mark Bretz / July 25, 2023
Story: Taking a walk on her wedding day, Andrea is accosted by a thief. He tells her that he doesn't want to hurt her, just needs some money to get him through tough times. When she resists, he knocks her to the ground before taking her valuables.
Andrea's sister, Eloise, is alarmed by what has happened – and at Andrea's dazed response to it all. Their cousin Isabella, meanwhile, is busy making last-minute preparations for the wedding when not cajoling her younger brother, Andrew, a meek sort who only wants to take photos. I
t's been a tragic year for this family, following the death of Eloise's and Andrea's father, and the subsequent suicide of their mother. Isabella does her best to get them to soldier forward, but it's a serious challenge, compounded by the decision of Eloise's husband, Jeff, to state his intentions for divorce that same day.
With the passage of 13 years, the psychological scars of that day and era remain. Eloise remarries, Isabella takes a husband, and Andrew's passion for photography has become a vocation. Bartholomew, the man who robbed Andrea years ago, reached a pivotal point in his life and, through his own sheer will, has built a successful career since he bottomed out more than a decade earlier.
Fate brought Andrea and Bartholomew together once before. Will it do so again? Can Andrea ever emerge from her deep trauma? Is Andrew destined to forever accede to Isabella's harsh demands? Can Eloise find the happiness that eluded her in her first marriage on her second attempt? The years have taken their toll on this extended family, bit by melancholy bit.
Highlights: Midnight Company founder and artistic director Joe Hanrahan, who directed an earlier production of this play back in the mid-1990s, renews his acquaintanceship with Cindy Lou Johnson's sobering saga in Midnight Company's newest presentation.
Other Info: Johnson's story is a little like an adult "Peanuts," in that the older generation of parents, aunts and uncles are discussed but never seen. What they have left behind, whether through death or travels in their senior years, is a family built upon rituals which some of them find elusive in meaning.
Hanrahan moves the six performers in and around a quaint set designed by Brad Slavik, with a quintet of slatted sheets in the background and an upstage area filled with the basic necessities of furniture, namely a couch, a pair of chairs and a couple of side tables on the floor of The Chapel, as well as a table above the action at stage left. That's sufficient, though, for Andrew to hide behind a chair in a pivotal scene in Act I.
Liz Henning's costumes dress the players in comfortable middle-class attire, as well as some ill-fitting wedding dresses caused by various errors such as mix-ups at the dress shop. Tony Anselmo's lighting nicely complements various scenes and is especially effective in scenes with the interloper Bartholomew. Several versions of Joni Mitchell's pensive ballad, "Both Sides Now," fill the background at sundry points of the two-act drama.
Hanrahan coaxes good performances from his cast, including Alicen Moser as the perpetually distracted Andrea; Summer Baer as Andrea's always hopeful cousin, Eloise; Ashley Bauman as the hard-driving, in-control Isabella; and Joey File as Andrew, the low-key, soft-spoken and dutiful Andrew who hides his emotional problems, especially from his domineering sister. Michael Pierce is fine in two small roles, as Eloise's unfaithful husband Jeff and also as a street thug who attacks Andrea in her second confrontation with brigands. Pierce also effectively serves as fight director and choreographer for the two assaults on Andrea. As Bartholomew, Joseph Garner finely interprets what is Johnson's most philosophical dialogue, which she saves for the highwayman and future successful businessman, a success which is more fragile than Bartholomew would care to admit.
That fragility, and the harsh and impersonal impact of time on one generation of this dysfunctional family, is at the heart of "The Years," for better and for worse. As Johnson sees it, life is anything but a cabaret, something Hanrahan's cast makes poignantly clear.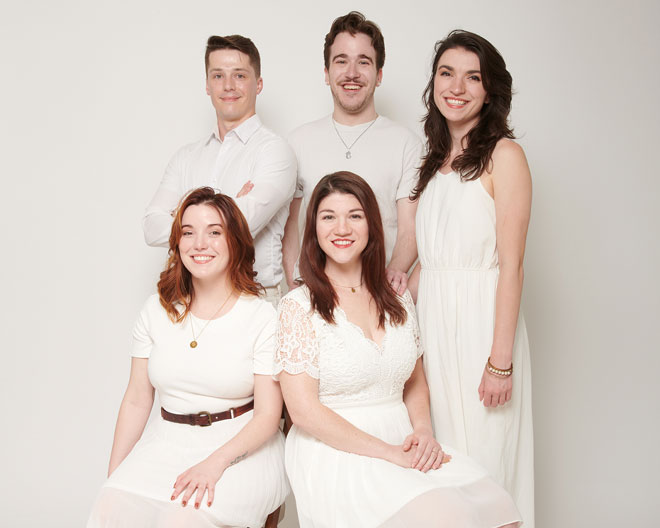 ---
PopLifeSTL
Lynn Venhaus
/ July 19, 2023
Life and death. Lost and found. Weddings and funerals. The big picture and small moments. Cindy Lou Johnson's "The Years" mulls it all over, and a pliant cast grasps their roles astutely in a bittersweet production from The Midnight Company.
A family comedy-drama written in 1994 and presented in St. Louis some years ago by the Orthwein Theatre Company, its universal themes again connecting in the intimate space of The Chapel. Joe Hanrahan directed the current show, and the latter.
The two-act framework, at first, seems like a familiar scenario: preparing for a small wedding with chaos all around two sets of cousins. Is any family spared drama on special occasions? Not in my experience – but we're one of those who puts the 'fun' in dysfunctional, so the turmoil is relatable.
And this family is indeed 'off-center.' "The Years" is resolute in accepting the quirky, with characters going through different phases of understanding through a 20-year period. As the two sisters Andrea and Eloise, Alicen Moser and Summer Baer suffer both in silence and then out loud. They are fine, delicate actresses who excel at their craft.
Their flakier cousins Isabella and Andrew are counted on to get things done, and Ashley Bauman and Joey File are terrific in comic relief as bossy, neurotic older sister Isabella and slacker, yet contemplative, younger brother Andrew. Newcomer File is the show's breakout star, and one to watch.
It's Andrea's wedding day, but she is delayed by an inconvenient mugging that's left her visibly bruised and emotionally battered. Meanwhile, her sister Eloise has problems of her own. They are both fragile, anyway, as they deal with their mother's suicide soon after their father's death.
They move on after that turbulent day, and 13 years pass. It's time for another family wedding, and the cousins come together after struggling through the unpredictability of life. The last act takes place three years later, and this is where it stretched credibility, but it had me up to that troubling end, which didn't feel like a 'wrap up.'
The confident cast makes the most of a jagged little play, for they are a finely calibrated ensemble, smooth in their deliveries and comfortable on stage with each other.
In particular, the four cousins are convincing in projecting their shared bonds. While their lives intermingle, we get snippets of their characters through the skills of the performers – because the character backstories are slim.
Rounding out the cast, Michael Pierce and Joseph Garner may seem like interlopers, but their roles are anything but random. In only one scene, Pierce is assured as Eloise's husband Jeff and Garner, a powerful presence in recent stage appearances, is a conflicted stranger Bartholomew, a lost soul that re-emerges throughout the play. He is prone to giving advice after life-altering events: "My life didn't change – I changed my life."
Hanrahan, a master storyteller on his own, has a knack for connecting people through art. A creative dynamo during the coronavirus public health crisis, he pivoted with original material, and keeps challenging himself and his casts with intriguing projects – well-known or new.
An experienced fight choreographer, Pierce ("Twelfth Night" by St. Louis Shakespeare Festival and "Murder on the Orient Express" at The Rep) set up authentic confrontations.
Competent design work was handled by Brad Slavik on set, Miriam Whatley on props, and Tony Enselmo on lights. Liz Henning's costume designs are always outstanding
While not profound, "The Years" is a thoughtful reflection on connection, curveballs in life, and how our lives are impacted in roundabout ways, and ever more relevant after a global pandemic shutdown.
---