---
SNOOPS THEATRE THOGHTS / www.snoopstheatrethoughts.com
The Midnight Company Brings Fascinating, Darkly Comic 'Magic' to the Theatre
By Michelle Kenyon 'Snoop'
There is magic in the theatre, but there can also be stagnation, monotony, rejection, competing egos, and jaded artistic directors with ulterior motives. These ideas are some of what you can draw from The Midnight Company's latest production, although there are many more thoughts and ideas you can also derive from this darkly comic, outrageously unpredictable, and ultimately riveting production that just opened at the Kranzberg Arts Center. The production is called It Is Magic, and as directed by Suki Peters and featuring a stellar cast, it actually is quite magical.
One of the many highlights of this show is the construction of it, and its sheer sense of thrill-ride unpredictability. It starts out as one thing, then morphs into something else, and then still into another thing, with a steady and relentless pace as it tells its story with dark, twisted abandon. Overall, it's about theatre, and there's a lot of biting satire here, but there's also a sense of subversion about it that doesn't seem apparent at the start. As the play opens, we're in the basement of the Mortier Civic Playhouse, where the determined Deb Chandler (Michelle Hand) is conducting auditions for her new adaptation of "The Three Little Pigs" for adult audiences. As the good-natured perennial bit-player Tim Padley (Carl Overly, Jr.) auditions for the lead role of the Wolf, Deb's glum sister Sandy (Nicole Angeli), who also wants the part, looks on. After Deb has stopped the audition several times with some somewhat overzealous "notes' and the audience might start to think this play is something along the lines of the modern classic film Waiting For Guffman, pontificating artistic director Ken Mason (Joe Hanrahan) arrives from upstairs, where he's directing a production of "The Scottish Play" (Macbeth) on the Playhouse's Main Stage. Ken is looking for Tim, who is supposed to go onstage as the Second Murderer very soon, even though Deb keeps detaining him because, even though she's determined that Tim should get the part of the Wolf, something's not quite right. That's just the beginning of the story as things start to get more unusual, and then even more so, as eventually Elizabeth (Chrissie Watkins) shows up to the audition claiming to know Deb and Sandy, although they don't seem to remember her. From there, the surprises keep coming as the show veers from straight-up comedy, to flirtations with melodrama, and then crashes back into comedy with a decidedly dark tone, and all the while there are building elements of mystery and, yes, magic.
That's about as far as I want to go with the plot synopsis, because the unfolding mystery and unpredictable, perpetual surprise element of the story is the real driving force of this production. On the way, though, there is a fair amount of skewering of theatre tropes, like the audition process, self-important artists, the cult of personality, and more. There's also a fun blend of the fairy tale elements with themes from Shakespeare's Macbeth and aspects of fantasy and even horror. Underneath all the jokes, plot developments, surprises, and revelations, though, is an exploration of the purpose of theatre and its importance, and the tension between the desire to create and to challenge, and the temptation to slide into a sense of the mundane and mediocre.
The black box theatre at the Kranzberg is the ideal place for a show like this. The minimal set by Kevin Bowman, and the lighting, also by Bowman, provide an all-too realistic setting for this depiction of a small community theatre audition and rehearsal space. The characters are also outfitted ideally in Liz Henning's striking costumes, and director Peters–who is especially adept with comedy–has paced the show with a precise sense of timing, bringing the absolute best out of her excellent cast.
And that cast is truly marvelous. Everyone is ideally cast. Hand, as the self-doubting, all-too-earnest Deb projects a sense of both mounting desperation and hopeful determination, along with a somewhat unsettling hero-worship of Ken, who is played by Hanrahan with an outward wit and charm that still doesn't disguise his underlying condescension and controlling nature. There's also impressive work from Angeli, who gives a multilayered performance, bringing out a sense of melancholy, bitterness, determination, and an ember of hope to the ever-rejected Sandy, who eager for a chance to finally get a part in a play, but also has some other surprising motives. Overly, as the good-natured but increasingly exasperated Tim, is also strong, with some surprises of his own; and Watkins brings a fierce intensity to her game-changing role as Elizabeth. All of the players work well together, with much of the comedy, tension, and energy coming from their various interactions.
I wish I could write more about exactly what this play is about, but really, this is the kind of show that needs to be seen to be believed. It's also a show that should raise some challenging questions concerning the purpose and nature of theatre itself. it's a fascinating, riveting and genuinely hilarious play to watch. It's an impressive show from The Midnight Company, that usually (but not always) produces one-person shows, especially considering the fact that the ensemble chemistry makes this production all the more compelling. And absolutely, like the title says, It Is Magic.
---

ST LOUIS EATS & DRINKS

/ www.stlouiseats.typepad.com


By Ann Lemon Pollack

Is IT IS MAGIC too much inside baseball, so to speak, for people who don't live in the world of live theatre? Well, no, not unless this is your first time ever to go to a play. I admit, having experienced it, it's difficult to explain to an adolescent whose world of entertainment is entirely on screens of one sort or another just why live theatre is so remarkable. And to some minds, watching the worst of special effects is preferable to seeing humans on a stage. (I'm thinking of finding some of those very early Japanese Godzilla-type films and making them endure that if they're so convinced of the superiority of technology.)

No, trust me on this. The Midnight Company is back in the groove with a bang showing off this Halloween-y play by Mickle Maher. We're in the basement of the Martier Civic Playhouse. On the main floor, the Scottish play is about to open. Here, there are auditions going on for an adult version of The Three Little Pigs. It's a new play written by a first-time playwright, who is also directing it, and who works in the office at the civic center. She loves, loves, loves theatre, but is clearly an amateur. In fact, as it turns out, she doesn't remember the name of the play opening tonight, or why no one will say its name. (If you don't, either, here's an explanation from folks who really know.)

But that's just an aside. Deb (Michelle Hand), the playwright-director is casting the big role, the Wolf, and Tim (Carl Overly, Jr.) has been called back three times now because Deb just can't make a decision. Moreover, Tim's going to need to leave in a few minutes because he's playing Second Murderer upstairs, thus his kilt. Sitting by Deb is her sister Sandy (Nicole Angeli), her head on the table, looking bored out of her mind. Or so we think. But it turns out that Deb wants the role. Badly.

Finally Deb lets Tim go, after picking his audition to pieces yet again and after the curtain upstairs has risen, in comes the artistic director for the whole place, Ken Mason (Joe Hanrahan). In other hands, either another author or another theatre company, this could have been the sort of character Gig Young played, rather sophisticated, slightly jaded, a martini in one hand and a cigarette holder in the other. Hanrahan's much grittier Mason announces he can never stand to be in the room once the curtain goes up and he has to be elsewhere. Jaded? Like a piece from the Ming Dynasty. Forget the romance of theatre, much less the magic, it's all he can do to be civil to the patrons in their khakis and chunky bracelets (and crocheted shawls, don't forget the shawls) who keep things afloat with their donations. Of course, he poo-poohs Deb's excitement, even though he has agreed to let her do the play the following season. The best that can be said is that he's not condescending He's just bluntly negative down to the point of complaining about the seats in the theater.

Somewhere in here, the play moves from satire into...another dimension. It's very subtle at first. A woman named Elizabeth (Chrissie Watkins) comes into the basement, remarking that she knows the sisters "from somewhere". Odd things begin to happen. And off we go.

This is really excellent ensemble work from all concerned. Director Suki Peters has orchestrated them like a piece of chamber music. Overly is a delight, throwing himself – repeatedly – into the Wolf audition, Angeli practically rending her garments with frustration and Hand leaning into the wonderfully overstated director's role. Hanrahan switches back and forth between despair and the occasional encouragement faster than blinking, and Watkins at times felt like someone out of Star Trek with her electricity.

Kevin Bowman's lighting comes into its own in the second half of the play – he did the set design as well – and the very subtle-at-first sound is the work of Ted Drury. Liz Henning did the costuming, including the Second Murderer's outfit, which looks very au courant in certain circles.

Fascinating stuff, like so much Midnight Company does, but much twistier than one thinks at first.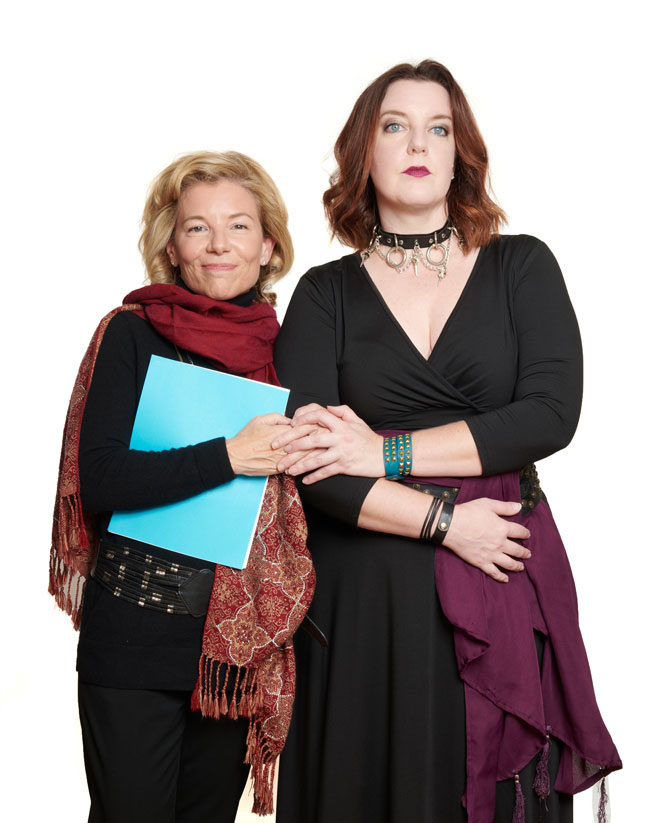 ---
KDHX RADIO
It's Magic. It's Theatre Magic. It's a Triumph at Midnight!
Written by Steve Callahan
Run, don't walk, to the Kranzberg to see It Is Magic, the amazing new play by Mickle Maher. Joe Hanrahan and his Midnight Company have brought us darkly edgy wonders for some twenty-four years now, but their production of Magic, which opened last Wednesday is certainly one of their finest. It is hilarious. It's literate. It's gripping. It's even scary.
This comedy/satire/parody/witch-tale begins quite normally—in a basement room of the Mortier Civic Playhouse. Upstairs on stage "the Scottish Play" is about to have "Places!" called. Down here in the basement, auditions are (still) being held for a brand new play—an adult adaption of "The Three Little Pigs". Tim Padley (Carl Overly, Jr.) is again reading for the central role of The Big Bad Wolf. This is his third call-back, and he really wants this role—but any minute now he'll have to go up to play the Second Murderer. (And, yes, he's wearing a kilt. And yes, it is funny.)
The playwright, Deb Chandler (Michelle Hand), is conducting the auditions. Her sister Sandy (Nicole Angeli) is assisting her. (Sandy, by the way, also very much wants to play The Big Bad Wolf.) Both of these women have worked in administration for this theater company for twenty years—for a pittance. This is the first play Deb has ever written, and she's simply dying for it to be a big success. Sandy has auditioned for previous productions—again and again and again—but she has never been cast.
Michelle Hand, as always, simply embodies deep commitment and precision. She fills Deb with a desperate urgency. In his audition Deb belabors poor Tim with weird and impossible acting advice (so characteristic of pretentious and confused directors): "Deliver the speech as if your lips were not moving." "Play it like an audition, not a performance." (Now personally I really want to see this Three Little Pigs. It's premise is that all that the Wolf really seeks is Love.)
Ken Mason (Joe Hanrahan) stops by. He's the Artistic Director. And he is a piece of work! Yes, his Macbeth is opening, but Ken expresses nothing but contempt for "the magic of theatre". He's so disillusioned. It's all so boring—the play, the audience ("in their best khaki's and Keds and their chunky bracelets"), the whole affair. He finds himself reduced to using a detested, overused (and thus meaningless) word in a press release—the word "Excited".
(In the program bios I note that six of the ten folks listed describe their feelings about being involved in this production as "excited", "very excited", or "SO EXCITED". With at least some, I hope, this was intended irony.)
Carl Overly gives a soul-wrenching reading of the Wolf. Such intense commitment to this bizarre premise.
And Nicole Angeli goes him one better when she reads for the role. She makes it truly gripping!
But . . .
"By the way," Ken says, "your kiddy show, The Three Little Pigs, will not be appearing next season."
Well anyway . . .
A stranger suddenly appears. This is Elizabeth (Chrissie Watkins). She claims to be a long-LONG-lost sister of Deb and Sandy. Is she a sister? Perhaps a "weird sister"?. Watkins brings fierce energy to the role.
Here things start to go really, really strange. Have Deb and Sandy been separated from Elizabeth these 400 years? Now we go deep into the dark spirit world. There are hexes and curses that manage to be both threatening and comic. Sister Deb takes chalk and quickly draws, free-hand, a large PERFECT circle on the floor. (How in the world . . . ???) She adds various arcane symbols—and we find that this theater, this play, this performance—well, "It Is Magic"! Real theatrical magic! When Ken makes the ultimate transgression against theater superstition—he utters the fatal word "Macbeth"—doom happens! What had begun as just another boring call-back audition becomes an entirely different kind of call-back—a call-back from beyond the grave. Deep questions are raised: Is immortality just a kind of death? Is the audience itself in some sense dead?
In the end the performance of "the Scottish play" upstairs devolves into a mad sort of bloody Witches' Sabbath—with the destructive scope of an Armageddon. Playwright Mickle Maher shows true genius in this mix of goofy parody, deep intensity, and mad, limitless, inspired imagination.
This brilliant cast, under the gifted direction of Suki Peters, presents a dazzlingly funny, deeply engaging, quite unparsable triumph: It Is Magic. It plays at the Kranzberg through November 6.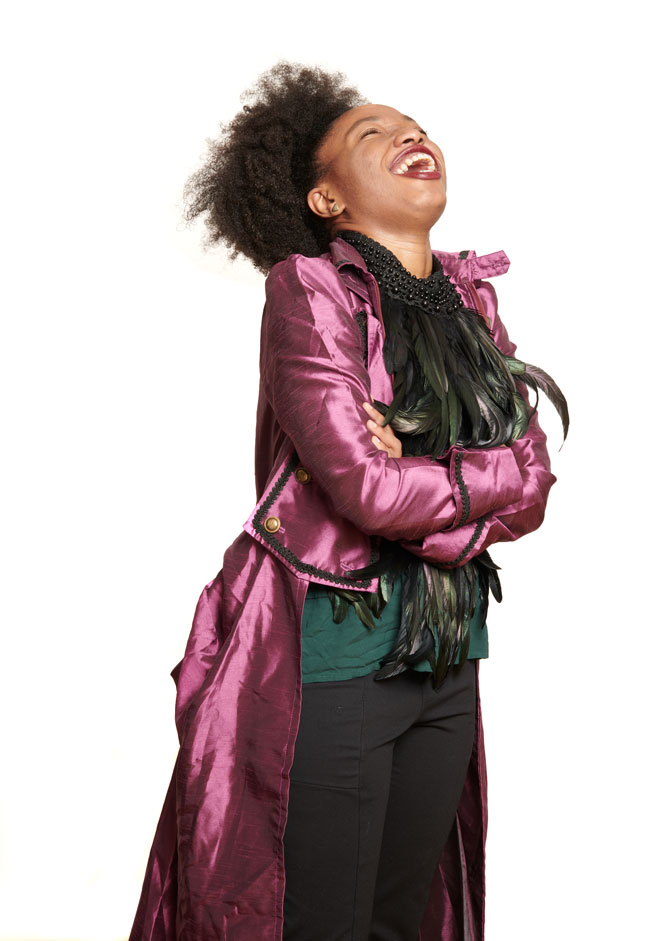 ---
ST LOUIS POST DISPATCH
Blending satire, supernatural IT IS MAGIC is a Midnight Company Triumph
Written by Steve Callahan

It Is Magic," the latest Midnight Company production, is at once a celebration of theater and an exhilaratingly offbeat exploration of its possibilities. Directed by Suki Peters, the comedy-drama by Mickle Maher is a shapeshifting delight that theatergoers probably won't want to know too much about before experiencing it for themselves.
The play begins in a basement rehearsal space at a community theater, with Tim Padley (Carl Overly Jr.) enduring his umpteenth audition for the role of the Wolf in an adult version of "The Three Little Pigs." It seems that budding playwright-director Deb Chandler (Michelle Hand) just can't make up her mind about casting him, and she isn't particularly concerned about his increasing frustration. Deb is also oblivious to the fact that her sister Sandy (Nicole Angeli) also covets the part.
Tim can take comfort in having landed a gig as Second Murderer in a production of "Macbeth" that's being presented upstairs at the theater. And director Ken Mason (Joe Hanrahan, Midnight Company co-founder and artistic director) would clearly prefer that the actor focus on his Shakespearean responsibilities. Ken is also considerably less romantic about theater than Deb is, and his unapologetically cynical demeanor is in line with that perspective.
But his lack of belief in magic doesn't mean it doesn't exist. With the appearance of an enigmatic woman named Elizabeth (Chrissie Watkins), reality unexpectedly slips into the realm of the otherworldly. And "It Is Magic" takes on an unpredictability that's somehow at once disorienting and engaging.
What could a fairy tale about a trio of pigs facing an existential threat have in common with one of the Bard's greatest works? Maher answers that intriguing question with a unique blend of introspection and spookiness that gets to the heart of what theater is all about. And Peters is up to the challenge of bringing his play to brilliant life.
No doubt "It Is Magic" will be of interest to folks who have devoted their lives to theater and who embrace its ability to inspire boundless awe. But anyone should be able to appreciate the play's richly theatrical shifts between the satirical and the supernatural. And the performances are first-rate.
Particularly impressive are Hand, who gets to the essence of the determined Deb; Overly, who imbues Tim with an appealing blend of sincerity and vulnerability; and Hanrahan, who perfectly captures Ken's self-absorption.
Set and lighting designer Kevin Bowman, costume designer Liz Henning and sound designer Ted Drury successfully conjure an atmosphere in which the uncanny feels right at home.
"It Is Magic" is very much in keeping with the Midnight Company's pursuit of the adventurous and the surprising.
---
LADUE NEWS
Written by Mark Bretz

Highlights: The Midnight Company's hilarious production of this one-act, 95-minute work by Chicago playwright Mickle Maher is a joy ride of witty comedy and unexpected delving into the dark arts, made all the more appealing by director Suki Peters' homage to Maher's helter-skelter, mind-bending script.
Story: Deb and her sister Sandy are stalwart members of their local community theater, the Mortier Civic Playhouse. As testament to their loyalty, Deb is hoping to stage the world premiere of her first play at the Mortier and is holding auditions in the theater's basement, even as its artistic director, the dictatorial Ken Mason, is helming a production of Macbeth upstairs. Sister Sandy is still plugging away after two decades with not a single role to show for her endless string of auditions.
Of course, neither Ken, Deb, Sandy nor anyone else dare mention the actual title of Shakespeare's "Scottish play," give the tragedy's history of bringing misfortune to any theatrical type who does. That includes Tim, who presently is portraying the Second Murderer in the performance upstairs while going through yet another audition for Deb's playwright debut, an "adult" version of The Three Little Pigs.
Tim is competing with Sandy and others for the coveted role of the fabled wolf who brings torment to the trio of pigs, blowing down two of their houses with his destructive breathing. Tim is annoyed with Deb's insistence on still more auditions but he nonetheless attempts to assuage her remaining concerns about his ability to play the part.
While the auditions stumble along and Deb worries about her show's shoestring budget, Ken decides to put in his two cents of unsolicited advice to the chagrin of Sandy, who has been treated badly by him for 20 years. Ken promises, however, to be impartial and objective while judging the talents of the people hoping to land the part of the wolf.
Given his track record, though, does anyone really believe that? When a seemingly unknown woman named Elizabeth appears out of nowhere, referencing a poster about the auditions she saw at a local Y, she sets in motion considerable angst and anxiety by her very presence. Is there more to the Mortier Playhouse than appears at surface value?
Other Info: Maher's madcap sense of humor is all over the board, but he strikes a resonant chord in his obvious love of the theater and the people who thrive on the art form's "magic." Peters understands the broad boundaries of Maher's thinking and utilizes the expert comic talents of her quintet of players in realizing Midnight's well-wrought and quickly paced interpretation.
Each of the players has a grand time bringing their characters to life. Carl Overly Jr., e.g., brings out every bit of Tim's endless frustration at auditioning ad infinitum for the role of the wolf, even as he earnestly turns on a dime to deliver a convincing version of the fairy tale villain.
Michelle Hand is a treat as the subject of Tim's ongoing torment, the fastidious Deb. Hand is a hoot as Deb, describing how Tim's portrayal somehow reminds her of everything that is wrong in the world, and Overly's puzzled response to that nebulous reaction is priceless. At the same time, Hand's Deb bends over backwards in awe at every syllable uttered by the company's pompous artistic director.
Joe Hanrahan perhaps bases his spot-on portrayal of the obnoxious Ken on insufferable "artistes" he has known in his own theatrical endeavors, or maybe he's just savvy at humorously depicting Ken's really bad manners. That's particularly apparent when Ken appears to listen intently to yet another of Sandy's auditions before he comments in his self-aggrandizing fashion on what he has seen.
As Sandy, Nicole Angeli brings out both the vulnerability and the thick layer of sarcasm the young woman has developed over two decades of rejection, adroitly alternating both aspects of Sandy's personality.
Chrissie Watkins delivers a fine performance as the mysterious Elizabeth, helping set in motion an abrupt switch in Maher's script, which cleverly ties in the goings-on both upstairs and downstairs at the Mortier Civic Playhouse.
Kevin Bowman's scenic and lighting designs do a lot with a little, comprised of a table and a couple of chairs for Deb and others at one end of the stage (which is bracketed by audience members) and some judicious lighting at key moments. Liz Henning's costumes range from Carl's onstage costume for Macbeth and the casual attire of the behind-scenes folks. Ted Drury's sound design supports the work on stage.
Maher's valentine to theatrical types doubtless appeals especially to them, but his witty and intriguing script offers something for anyone who enjoys experiencing that theatrical "magic."
---
TWO ON THE AISLE
Written by Gerry Kowarsky
It Is Magic explores the hold of theater over the people who practice it. The play by Mickle Maher is great fun in the current staging by The Midnight Company.
The characters in It Is Magic are not practicing their art at a high level, and not just because the play is set in a basement. Deb Chandler is conducting an audition for new play she has written: an adaptation of "The Three Little Pigs" for adults. It has been scheduled by the Mortier Civic Playhouse.
With Deb are her sister, Sandy, and the auditioner, Tim Padley. When Deb explains her vision for her play, her ideas sound wackier than the play's subject. Even so, Deb is completely besotted with her conception.
In the most recent of several callbacks for the role of the Wolf, Tim is auditioning even though he has a part in the play that is about to begin upstairs. He will be the second murderer in Macbeth. Tim throws himself into both roles with the same abandon.
Sandy watches the audition with undisguised envy because her heart is set on playing the Wolf. She is undeterred by a long history of rejection at the theater. Her relationship with Deb is of no help to Sandy. Consanguinity cannot compete with Deb's vision.
The next character to appear is Ken Mason, the company's artistic director. He does not believe in theater magic, but he seizes every opportunity to wield the power of his position. For Ken, the stage is a kingdom, and he is the king.
The final character, Elizabeth, is a wild card. Her appearance at the audition changes everything and nothing. She introduces Deb and Sandy to undreamed of capabilities, but their newfound powers cannot compete with theater magic. No one is less in thrall to their obsession with theater than before.
The Midnight production features wonderful actors who throw themselves into sending up theater fanatics. Michelle Hand's Deb is off in her own world and makes it a fascinating place to observe. Nicole Angeli finds the hilarity in the longing produced by Sandy's unfulfilled ambitions.
Carl Overly, Jr.'s portrayal of Tim's overacting is a splendid example of the control and judgment Tim lacks. The gleefulness of Joe Hanrahan's performance could not be more appropriate for Ken's tyrannical stunts. Chrissie Watkins exudes unfettered power as Elizabeth, a character whose essence is power.
Suki Peters directs with the utmost sympathy for theater addicts. Kevin Bowman's set and lighting and Liz Henning's costumes create the right atmosphere for the production.
It Is Magic continues through November 6 in the Kranzberg Black Box Theater.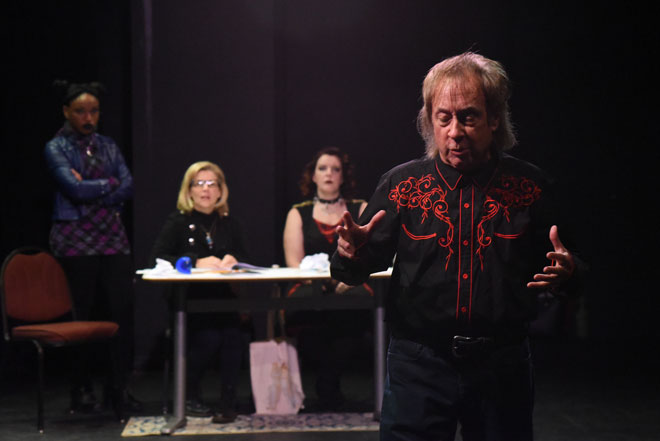 ---
JUDY ACT TWO
Written by Judy Newmark

When I went to the theater the other night to see Midnight's production of "It Is Magic," I had what promised to be a disheartening experience. But it turned into a wonderful experience, thanks to members of the St. Louis theater community. Thanks to women members in the St. Louis theater community. It didn't actually happen in the theater (the Kranzberg). It happened on the street outside, after the show, when I tried to start my car to go home.
Nothing. Not even a click. Dead dead dead.
Oh brother. Well, this is why I have a phone, right? .
But wait. Getting into the car parked behind me was Jessa Knust, who recently directed "Bloomsday" at the West End Players' Guild. (This night, she was in the audience, like me.) "Can I give you a charge?" she asked me.
"You have cables?"
"Sure," she said. I was very impressed. I have never had cables with me – and I have no idea how to use them.
As Jessa was setting things up, members of the cast were leaving the theater. Nicole Angeli, Michelle Hand and Chrissie Watkins came up to help – they all knew what to do (and I think some of them carry cables, too). Then the costume designer. Liz Henning, joined in. Liz said she decided to learn how to charge a car when once, while she was in high school, her date's battery died because he left on the lights while they ate at a restaurant. Liz realized that if this had happened to her when she was alone, she'd be stuck. She swore she'd learn to charge a car herself.
Working as a team, they got me going again. My big contribution: I turned the key in the ignition.
I'd like to think this is a generational thing – I am older than all these women, and maybe they learned lessons of feminist self-reliance that my generation espoused but did not necessarily practice. Or maybe it's just that I am an idiot when it comes to machinery/equipment of any kind whatsoever. In any case, I remain knocked out by this demonstration of competence and consideration from Jessa, Nicole, Michelle, Chrissie and Liz. Thank you all. You each deserve a special little Judy Award.