Sarah Whitney (Associate Director) was born and raised in Evanston, Illinois by her father, Bill (a small business owner), and her mother, Ann (an actress). So it is understandable that when Sarah realized she wanted to be a theater director, she also recognized it was wise to learn the business side of theater as well.
Sarah graduated from Northwestern University with a degree in Performance Studies, studying directing under Frank Galati. After graduation, she worked several years as the General Manager of Wagon Wheel Theatre, an 800-seat theater in Warsaw, Indiana. There she produced numerous summer stock productions, and in the winter, country and pop concerts, including Kris Kristofferson, Marie Osmond, and Charlie Daniels.

To appease her artistic side, she became one of the founding members of the Warsaw Civic Theatre, where she directed, taught, acted, and designed several shows including Rogers and Hammerstein's Cinderella, Plaza Suite, and Godspell.
Several years later, to further the business side of her career, she moved back to Chicago and worked in administration as the Assistant Director of Operations and Ticket Services at the Goodman Theatre. Anything that concerned the front of house operations was under her purview, including managing the computer system which held over a half a million names.
Early on in her artistic pursuits, Sarah was an Assistant Director and/or Dramaturg for several Chicago theater companies, including Northlight, Next, Apple Tree, and Live Bait. She also began developing and teaching classes for Northlight Theatre and Whimsy City, a non-profit theatrical outreach program for underprivileged kids.
Her professional directing debut was The First, the aptly-titled Jackie Robinson story, at Apple Tree Theatre for Young Audience program. With great pride, Sarah has had the opportunity to direct her mother, Ann Whitney, in The Trip to Bountiful, for two different theaters, Wagon Wheel Theatre in Indiana and American Theater Company in Chicago. One of Sarah's passions is the research she does for a show. The highlight for Bountiful was when she interviewed the playwright, Horton Foote in his home in Texas.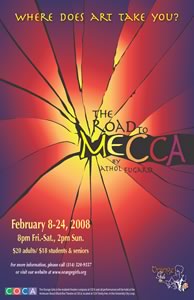 Throughout her career, Sarah has been drawn to developing and directing new work. Her efforts in this field have included directing staged readings or workshopping original plays for Chicago Dramatists, Women's Theatre Alliance, The Playwrights Collective New Plays Festival, Stage Left LeapFest, Stone Soup Collective, A.E. Hotchner Workshop at Washington University, as well as collaborating with individual writers. She was the Resident Director for Chicago Writers Bloc for three years, directing their annual play festival, and casting, and directing table readings of new plays each month.

She was asked to direct and provide the lyrics for an original musical by Rob Steel called Homoanthropology, which was staged at Links Hall, Chicago, in 1998. In 2000 she staged a backer's audition for the original play Recovery: From the Passage of an Iron Bar Through the Head. Despite the difficulties of getting new work produced, she has directed two productions of new plays: Out Among the Dragons and Down and Out in America.
Sarah moved to St. Louis in 2003. Her friend, Susan Booth, Artistic Director of the Alliance Theatre Company, was directing My Fair Lady at The Rep and Sarah assisted her. Soon after that, Sarah met Joe Hanrahan and began directing him in a series of solo shows: St. Nicholas, Cul-De-Sac, The Good Thief, and Give 'Em Hell, Harry. She also directed the critically-acclaimed The Road to Mecca for The Orange Girls.
In addition to joining Midnight Company, Sarah is also a member of the Stone Soup Collective, which is a group dedicated to raising funds and awareness for charity, giving hope to others through art.
And Sarah has continued her work with Midnight, directing APOLOGY/FAUSTUS, MISTAKES WERE MADE and SOLEMN MOCKERIES, and writing and directing her original children's piece, ALL EARS, for the first St. Louis Fringe Festival.
In 2014, after assisting with a class at St. Louis University, Sarah was asked to direct BUS STOP at SLU for their fall production.
She has also continued to work with playwright Dan Noonan on several of his plays. Most recently his piece BLUE OVER YOU was selected for the Dayton Playhouse Future Fest and was a Eugene O'Neill National Playwright's Conference Semi-Finalist.
For the third annual St. Louis Fringe Fest, Sarah directed one of her favorite one-man shows with Hanrahan: House. Let's just say it wasn't a MISTAKE!