Joe started working with City Players, then still under the leadership of their founders, mother and son Irma and Gerard Tucker. Appearing in numerous spaces, including Center of the Contemporary Arts and the Chase and Coronado Hotels, Joe worked under director Milt Zoth in a number of acclaimed productions, including roles in CLOUD NINE, BREAKING THE CODE, THE REAL THING and HURLEY BURLEY. (The deaths of the Tuckers halted the decades-long history of City Players, now thriving again under the direction of Ted Gregory.)
ACLU lawyer/radical theatre afficionado Bob Herman saw Joe's performance in HURLEY BURLEY, and recruited him to initiate Herman's new group, Dangerous Visions, with a one-man performance of Eric Bogosian's DRINKING IN AMERICA at Zone 8 nightclub in the Central West End (starting Joe's long relationship with Bogosian's work.)
DRINKING was directed by Milt Zoth, who was on the verge of joining the staff at Mary Institute/St. Louis Country Day School. The campus not only had a fine main stage theatre, but also a new black box space, and the school was open to a theatre company on campus, one which would enrich and involve students.
Joe served as Associate Artistic Director to Milt for the new Orthwein Theatre Company (named after the main stage space and a major donor to the school), and was integrally involved in many of the Company's productions. He directed DETECTIVE STORY, OUR TOWN, HARVEY, LOST HORIZON, BREAKFAST OF CHAMPIONS and THE YEARS.
And he acted in THE DIVINERS, A LIE OF THE MIND, THE GRAPES OF WRATH, THE SPEED OF DARKNESS and BURN THIS, and in the title roles of HAMLET, THE NORMAN CONQUESTS trilogy, and the one-man Harry Truman show, GIVE 'EM HELL, HARRY.
David Wassilak was also in the cast of HAMLET, where Midnight's co-founders met. They worked closely together, supporting each other's leading roles in THE GRAPES OF WRATH and THE SPEED OF DARKNESS, and Joe directed David in LOST HORIZON, BREAKFAST OF CHAMPIONS and THE YEARS.
David and Joe then produced Orthwein's successful Late Nite series, with Joe playing the title role in CANTRELL and performing Bogosian's SEX DRUGS ROCK & ROLL, directed by Wassilak.
After Joe parted ways with Orthwein, he worked for The (now defunct) New Theatre, though that group's Artistic Director, Agnes Wilcox, is still just as active with a thriving theatre in prison program. Joe appeared in DURANG DURANG, assisted director Wilcox in her fine production of Bogosian's suBurbia, and he also directed SYLVIA and PSYCHOPATHIA SEXUALIS for the company. David Wassilak was part of the PSYCHOPATHIA cast, and during that production, David and Joe sat around one night and talked about what was coming up or not coming up on the theatre scene. The result of that discussion was The Midnight Company.
Joe has written several of Midnight's productions (THE BALLAD OF JESSE JAMES, LOVE MATCH ­ also co-director/actor - and LIFE AFTER DEATH ­ also director), adapted and directed Bram Stoker's DRACULA, acted in POUNDING NAILS, PRIVATE EYES, WAITING FOR GODOT, WALT & ROY and WORST OF BOGOSIAN, and was co-director/actor for THE HUNCHBACK VARIATIONS.
In the Spring of 2002, he appeared in City Theatre's production of COBB (as Ty), and subsequently in two short films, BURGER BOY and SHAPELESS SECRETS.
In early 2004, Joe made plans for the first production from After Midnight, ST. NICHOLAS. After successful runs at McGurk's and Balaban's, Joe joined the cast of Clayton Community Theatre's production of THE REAL THING, repeating the role of Henry he'd done for City Players, again under the direction of Milt Zoth. (Tamara Kenny was also in the case, and Joe would call on her for After Midnight's SKYLIGHT in November, 2005.)
And in the Spring of 2005, prior to Joe's undertaking the After Midnight summer season at HH Studio, Joe appeared in one of the 48 Hour Film Project's short films, THE FARADAY CAGE, under the direction of Bill Boll. THE FARADAY CAGE was one of the finalists of the competition.
In the summer of 2006, after the Company's successful revival of THE BALLAD OF JESSE JAMES, Joe performed in afterMIDNIGHT's ThomPain (based on nothing.)
In November, Joe participated in a reading of a new play, 60 SECONDS LIVE by Nicholas Loyal for the A.E. Hotchner Workshop at Washington University. It was directed by Sarah Whitney who directed him in ST. NICHOLAS, and will direct The upcoming CUL-DE-SAC. (As a student at Wash U, Joe's son, Peter, won the Hotchner Playwrighting Award for his play, CAUGHT IN CARNATION.)
After performing in CUL-DE-SAC, Joe participated in a staged reading at SoundStage of Richard Dresser's ROUNDING THIRD.
Joe then sandwiched in directing his own scripts of SOLDIER BOY and THE LITTLE FRENCHY FILES for afterMIDNIGHT before performing for The Orange Girls with their production of AN AMERICAN DAUGHTER. In the Fall, 2007, Joe performed in THE RETURN OF THE BEDBUG for Upstream Theatre, which (along with SOLDIER BOY and LITTLE FRENCHY) was nominated for a Kevin Kline Award for Outstanding New Production. In December of that year, he played a featured role in the horror film EDGAR ALLAN POE'S LIGEIA, which featured movie stalwarts Wes Bentley, Michael Madsen and Eric Roberts. Joe then took on his second Conor McPherson solo show, performing THE GOOD THIEF, directed by Sarah Whitney, at Dressel's Pub in March, 2008.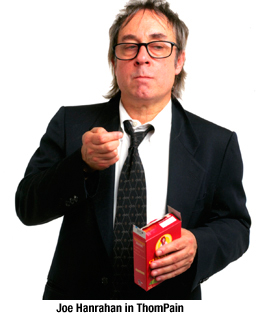 In May of that year, he acted in the crazy cool seven/24 project with Tin Ceiling and the Non-Prophets, as a gang of actors, directors and writers created and presented seven plays within 24 hours. And in June, Joe performed in OnSite Theatre's second production, the site-specific OVEREXPOSED, presented at Bruton-Stroube Photography Studios.
In the Fall of that year, he directed Midnight's production of MASS APPEAL, featuring a performance by his son Travis, at the magnificient Christ Church Cathedral.

In 2009, Joe reprised his performance as Harry Truman in Midnight's GIVE 'EM HELL HARRY, presented as part of The Missouri History Museum's theatre Series. And then he worked with OnSite Theatre again with their next two site-specific productions. He wrote their Spring production, EXHIBIT, which was staged within an unusual art exhibit entitled LOCUSTS AND HONEY at the new Craft Alliance Gallery space on Grand. And then appeared in the cast in their Fall production of AN EXTRAORDINARY DARKNESS at The Green Center in University City.
Joe then turned to more film work in 2010, as he prepared additional Midnight stage presentations. He appeared as an accountant for a soft-core film producer who was pressed into the role of Dracula in an underfunded film-within-a-film for the madcap feature THE SLACKS OF DRACULA (started in summer 2009, with filming resuming summer 2010); as a drifter who stumbles upon a horrifying ritual in the short BAIT (aimed at Portland's H.P. Lovecraft Film Festival, shooting throughout 2010); as the cruel father who comes home to wreck more havoc on his damaged family in the gritty feature BUBBA MOON FACE (shot in March); as a research scientist swept up in monstrous evil in the feature FRANKENSTEIN: A Modern Prometheus (shot in March); and as a hired killer trying to retire from the biz in the short THE FIRST EXECUTION (short in April.)
In the Spring of 2010, Joe and new Company member Sarah Whitney (and son Travis) collaborated on Mickle Maher's AN APOLOGY For The Course And Outcome Of Certain Evens Delivered By DOCTOR JOHN FAUSTUS On This His Final Evening. It was a welcome re-visit to Maher's work and world, and a bracing experience presenting, once more, at Dressel's Pub.
Shortly after that, EXHIBIT, the film that Joe, in cooperation with OnSite Theatre and The Arbor Group, produced and wrote (based on the play he wrote for OnSite in 2009) was accepted into The St. Louis Filmmakers Showcase.
In the winter of 2011, Joe performed two roles as part of the company in two Black Rep productions, Shakespeare's PERICLES and Lynn Nottage's 2009 Pulitzer Prize winner, RUINED.
Joe then produced and acted in Midnight's August, 2012, show MISTAKES WERE MADE at The Kranzberg in Grand Center. Films Joe acted in received screenings and acclaim during this time – FOR THE AGES won Best Silent Film at The St. Louis Filmmakers Showcase. And BUBBA MOON FACE played The St. Louis International Film Festival; a triumphant (if indie-flavored) screening and a slew of great reviews from bloggers around the nation (which can be seen on other sections of this site.)

He became part of The Black Rep staff at this time, serving as Marketing Director and making noise about the Company's 35th Anniversary Season. Part of that season would include directing duties for NO CHILD… - the one-woman show by Nilaja Sun, featuring Patrese McClain.
Joe did parts in two short films during the winter of 2011-2012 – the lead in Christopher Jordan's adaptation of Albert Camus' THE PLAGUE, and a supporting role as a political operative in Aaron Coffman's BLOWBACK.
He was also cast in supporting roles in two upcoming features for former colleagues – Pat Pinkston's AN ALMOST PERFECT CRIME (Pat wrote EDEN, IOWA and was writing and directing this one), And new work from BUBBA's director/writer Blake Eckard.
And Joe was cast in the September, 2012 Hot City production, GOODBYE RUBY TUESDAY by EM Lewis, a new play which won Hot City's Greenhouse new play writing festival, directed by Bill Whitaker, who previously directed Joe in COBB for City Players and ONE EXTRAORDINARY DARKNESS for OnSite Theatre.
In the Spring of 2013, Joe performed in two new scripts - as Beatles roadie Mal Evans in Caitlin McCommis' YOU WON'T SEE ME for Tesseract, and as cocaine kingpin Frank Lopez (and several other roles, almost all of which involved him being brutally slain) in Bob Mitchell's Shakespearean take on SCARFACE, MONTANA for the 2013 St. Louis Fringe Festival.
His work in film continued, with the release of Julie Hale's horror short, MARIAH, a role as a crime boss in Taylor Bevirt's THE LAST JOB, and narration duties for Adam Zanzie's short based on a Mark Twain story, THE BAD LITTLE BOY WHO DIDN'T COME TO GRIEF.
And he also working on the development of a cable/web series, a sci-fi series, GATEWAY, from Gene Pfeiffer and director Mike Sneden.
The Open Hydrant Theater Company in New York City chose Joe's play, SOLDIER BOY, as one of its ten selections out of 300 submissions for its 2013 Short Play Festival, and it was performed in November, 2013.