Midnight participated in its first Theatre Crawl this year. A two-day Fest, with two dozen theatre/opera companies participating, each with their own space in the Grand Center area. Each offering was 20 minutes, so audiences could roam from place to place, seeing as many as six different companies a day.
In the midst of writing several pieces, knowing this had to be a simple show, and inspired by Emily Leidenfrost's (who was in the cast of A VIEW FROM THE BRIDGE, a show I directed in February) interest in doing more theatre since she was back in town from Chicago, I wrote this piece for Emily and I – a realistic (so with both a serious point and a bit of humor) piece about a veteran waiter who tries to steer a young actress/waitress from the dangers of the party-hearty restaurant scene.
Sarah Whitney directed, and the results were very satisfying. It was fun and energizing to do the show six times in a row for different audiences, and attention was strong, as were reactions to the show. (And thrilling to work with Emily, able to witness her continued growth and commitment up close.)
In the midst of a variety of different approaches different companies took to the Crawl, Midnight was proud of our little play.
The Crawl wasn't reviewed per se, but following are a couple reactions from press bloggers.)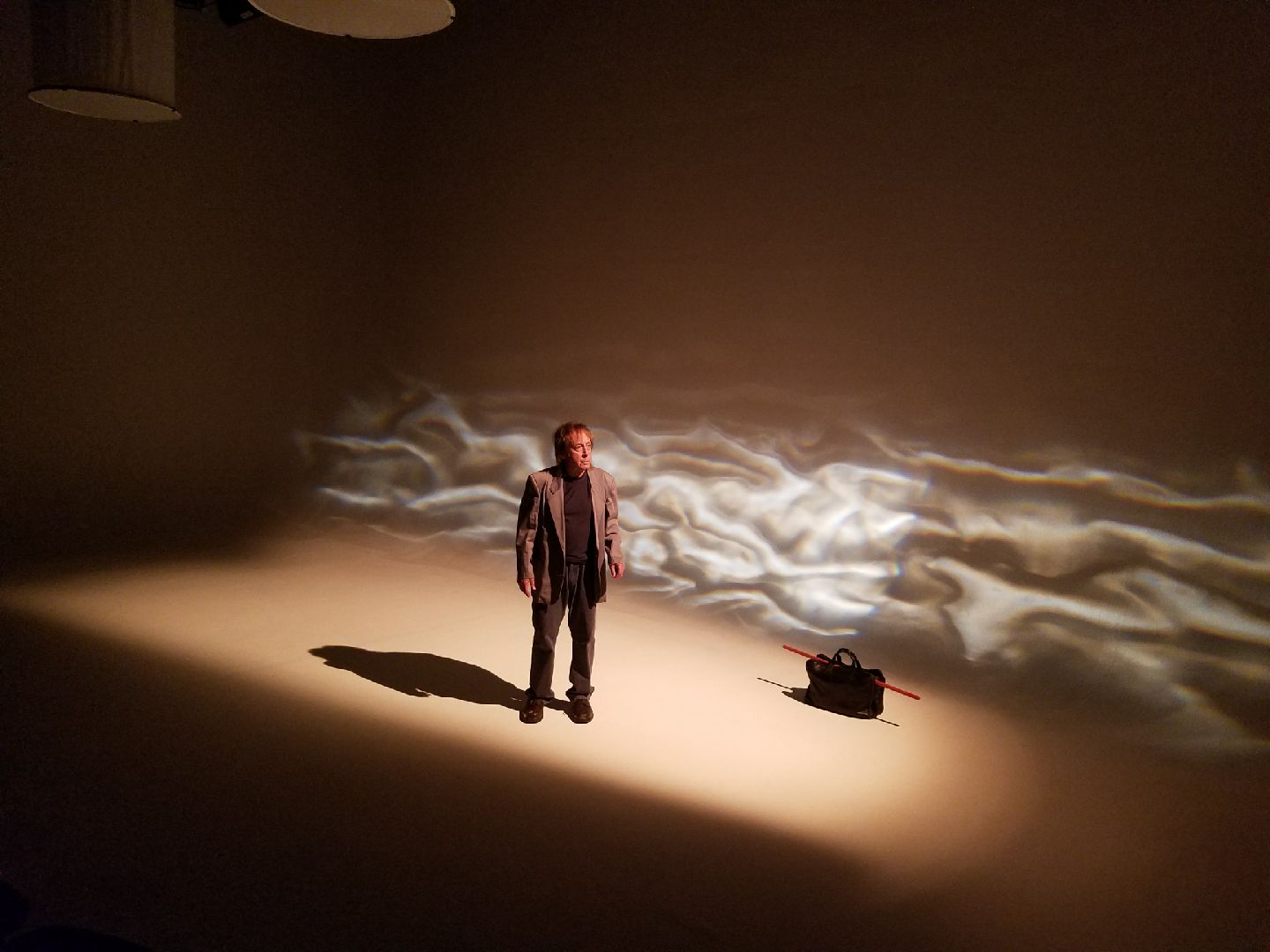 Bradley Toplen (photos by Mr. Toplen)
In this delightful slice of life scene actors Emily Leidenfrost andJoe Hanrahan shine on stage. The bittersweet reality of table waiting in a successful upscale restaurant takes the audience for a short roller coaster ride of emotions. As Lenny the veteran waiter played by Hanrahan says, "This business runs on us, runs us, runs us down."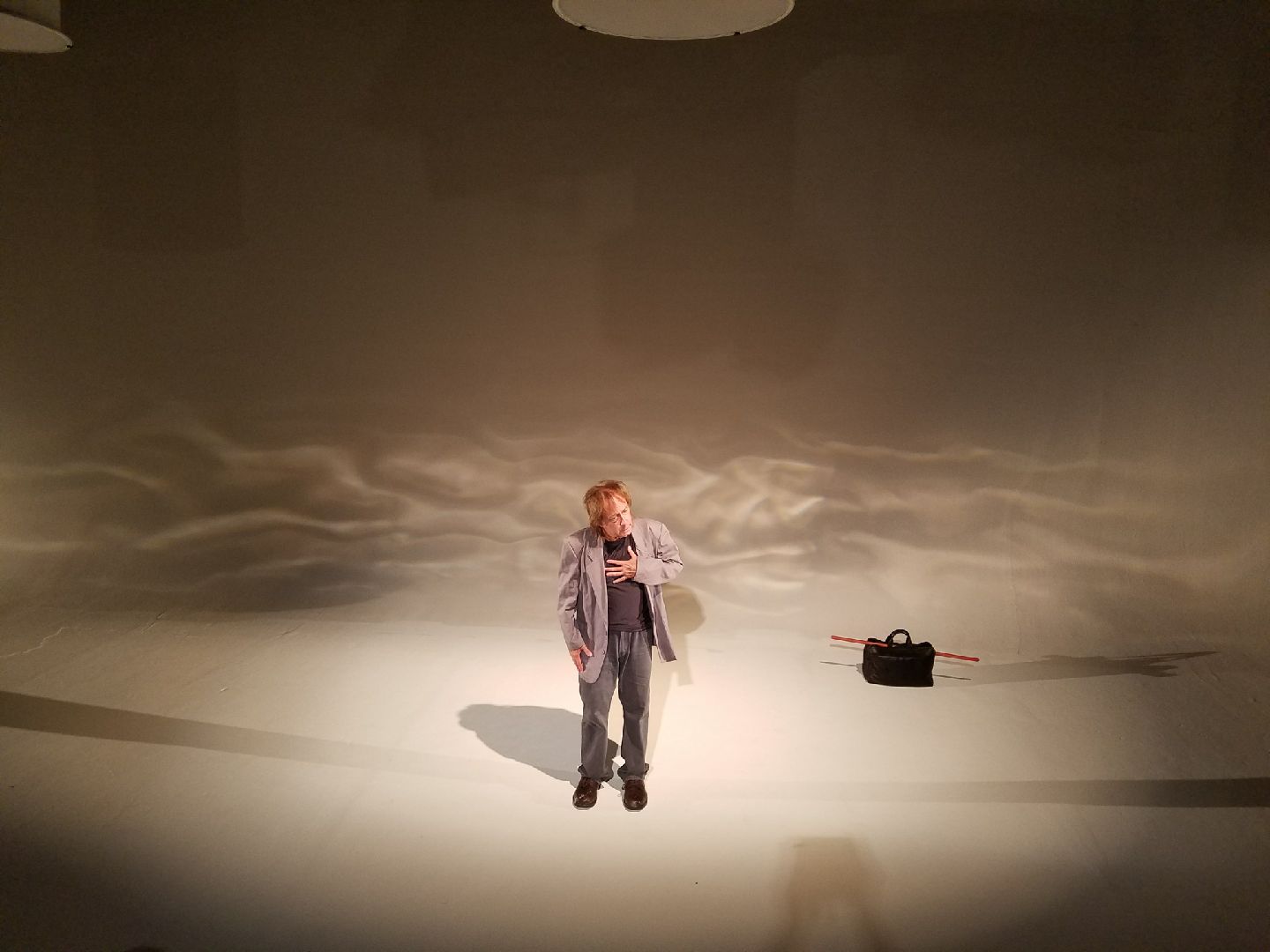 Lynn Venhaus Belleville News-Democrat
I went Saturday, and not all groups performing Friday returned, 8 in fact were absent (including a few I marked on my map. Drat!) So 16 were available for the 3 hours. My first two choices were Joe Hanrahan's delightful original piece "Tonight's Special" - a star is born in Emily Leidenfrost - and The Tennessee Williams Festival, with always reliable Pete Winfrey, who also directed, and Julia Crumpjust perfection. Really worthy engaging performances from the four. Started off the afternoon so terrifically.
A couple groups were a tad confusing in material and presentation, space was somewhat awkward. It is always a mixed bag -- this is my third year out of the four attending. I realize some groups are in the midst of producing shows, and time is a factor. But I want to especially mention the troupers in ERA - they were at the farthest away spot The Barnett and did not attract much of an audience. They performed in the garden of that beautiful space under a blazing hot sun. They tried out their piece - a work in Progress about the Psychology of Snow White - and they were as focused and professional as in a performance-ready piece. I was one of 6 people watching them at 3 pm. Bravo to them for putting in the effort. Their material is always interesting - and different - but that commitment to a handful of people in the beating-down heat was impressive -- with some wearing suits and wigs. Katy Keating was the narrator, Lucille Rosalind Cashion was Snow White, and the Seven men were Will Bonfiglio, Reginald Pierre, Gabe Taylor, Mitch Eagles, Alex Fyles and Anthony Kramer, with Joe Taylor musician. ERA also graciously supplied water.Fringe is in mid-August, and I would highly recommend ERA and Midnight Company for their remarkable professionalism and entertaining abilities. The TWF is returning in September with a special show. Can't wait.
I missed SATE's snippet of "Of Mice and Men," with Carl Overly Jr. as Lenny and Adam M. Flores as George, but the group will perform it this fall (Nov. 8-16) -- while the two leads have been cast, the supporting players have not, and auditions are July 6, just FYI. One of my favorite shows. Too bad it was just part of Friday. Ken Page's directorial debut of "Carousel" by Union Avenue Opera also garnered raves - and was only Friday. Glad the weather held out. Missed you Friday (stupid weather migraine).
I applaud the original efforts I did not get to - and commend the commitment.
Growing an audience is the goal, and I think some groups accomplished that better than others. Just my opinion.
Hey, St. Louis: You Are Missing Some Really Good Theater
Posted By Chris Colgin
St. Louis Post Dispatch
on Fri, Jul 7, 2017
A few months ago, I saw a production of Hamlet as part of Shake38, a St. Louis-only fest of Shakespeare's 38 plays performed all over the city. The organizers don't tell you much going in, so all I knew that night was to go to Wash Ave's Urban Chestnut at 10 p.m. Even though the bartender didn't know what I was talking about, I got a beer and went outside. Sitting at three of those long, Oktoberfest-style tables were a whole bunch of theatre people.
If you know theatre people, you know what I mean when I call them that. If you don't, then you're missing out. They're gay, in the happy sense. Sometimes they smoke cigarettes. Mostly, they're very enthusiastic. I did a few plays in high school and once stayed up all night with the new friends I'd made, listening to Belle and Sebastian and waiting for a donut shop to open (with them, this didn't seem unusual). Theatre people will approach you. They'll remember your name. They'll get together and read a 400 (+) year-old play, on a spring night, at a bar on the edge of downtown, with no charge, for your viewing pleasure.
Except you weren't there. Not many people were. There were twenty or so characters in this Hamlet, making the cast larger than the audience. A great play plus beer minus any sort of ticket price should not equal an audience that could fit into my tiny apartment. But that's what happened.
It happened again at last weekend's Grand Center Theatre Crawl. Between Spring and Compton, along Washington and Olive, 24 local theatre companies put on 24 short plays, and I didn't see 'em all, but I probably saw more than you. Afterward, one of the event's organizers reported that attendance hovered right above 1,000, and though she left me with the impression that she was pleased with the number, there should have been more. We're talking about a free event on a holiday weekend with great weather. For a major American city, 1,000 seems low.
Most of what I saw was special to the fest, but guess what? All of it was put on by local theatre companies, and you can see what they're up to, even if you can't see the specific show you missed last weekend. Theatre Nuevo put on a time-flying history of Mexico that was funny, insightful and wall-shattering in a way only contemporary art can touch. TLT Productions performed a rap/dance/beautifully sung musical, which had a mostly old/white audience moving in their seats, clapping real loud, and (believe it or not, possibly) thinking about race. STL Opera Collective did its take on A Streetcar Named Desire and took advantage of every opportunity to belt out Mrs. Kowalski's name with full operatic gusto. And Joe Hanrahan, a guy who should have his name on one of those stars in the Loop, killed in a self-penned, marathon piece he performed (with another actor) six times in three hours for two days.
Theatre Nuevo's show last weekend suggested they are a company to watch. - MIKE SNODDERLY
But then, also, and holy bejesus, there was a company called ERA. I don't even want to tell you about their play, because maybe it sounds dumb. Snow White. But it's far from Disney, and closer to Godard. With a live soundtrack from a keyboard and guitar, they were dangerously good. It was the youngest production I saw (and that includes a one act performed by high schoolers), the hippest (without being disingenuously repulsive), and the only one I liked enough to see twice. I'll see it again when they next perform August 18 at the Grandel Theatre.
Their Saturday afternoon show was at the Barnett, and afterward, I went next door to the Urban Chestnut where a lot of people were sitting around having a good time, some of them throwing little circular things into other circular things, and the sight of all of them 50 feet away from something they probably would have enjoyed just sort of bummed me out. I went over and talked to an actor whose play I'd seen earlier that day, and we talked for a while about how great this city is, its beauty and its potential, and then he said, "The worst part about St. Louis is St. Louisans."
I laughed, but what he was getting at was an inferiority complex that keeps people from realizing how great we've got it. He talked about county people driving in for the Cards, or the Blues, for the Muny, or the Fox, or The Winter's Tale in the park, and how people who live in this city go to that stuff, too, without realizing that, within this little leaf of ours, there is world-class theatre, almost every week of the year. (There's great music and all sorts of other jazz too, but let's just talk about theatre for now.) St. Louis has an embarrassment of riches, and it's embarrassing to see so many empty seats.
At that same bar, way back in April, watching those young actors read one of English's greatest works made the future in some ways right there in front of us. But if the future of theatre in this city continues to include audiences as small as the one that night — well, actually, those actors will probably keep doing it. That's another thing I like about theatre people.
You may be thinking I've got kids, or I'm tired, or I'm broke, or I've got world-class entertainment on my phone, and to all that I'll say, Fine. But I'll also say this: Sitting in a theatre, or wherever, and watching a play, or whatever, is a pretty good use of your time. Funny, sad, thought-provoking, all that and more, it'll strengthen your imagination, the most human of muscles capable of drawing forth the ghost of a king and building just a little more empathy between you and everyone else outside your head. Some people commit their lives to this, and all they want to do is give you something special.
You should consider taking it.